Faster and Greener Method of Synthesis of Microporous Metal-Organic Materials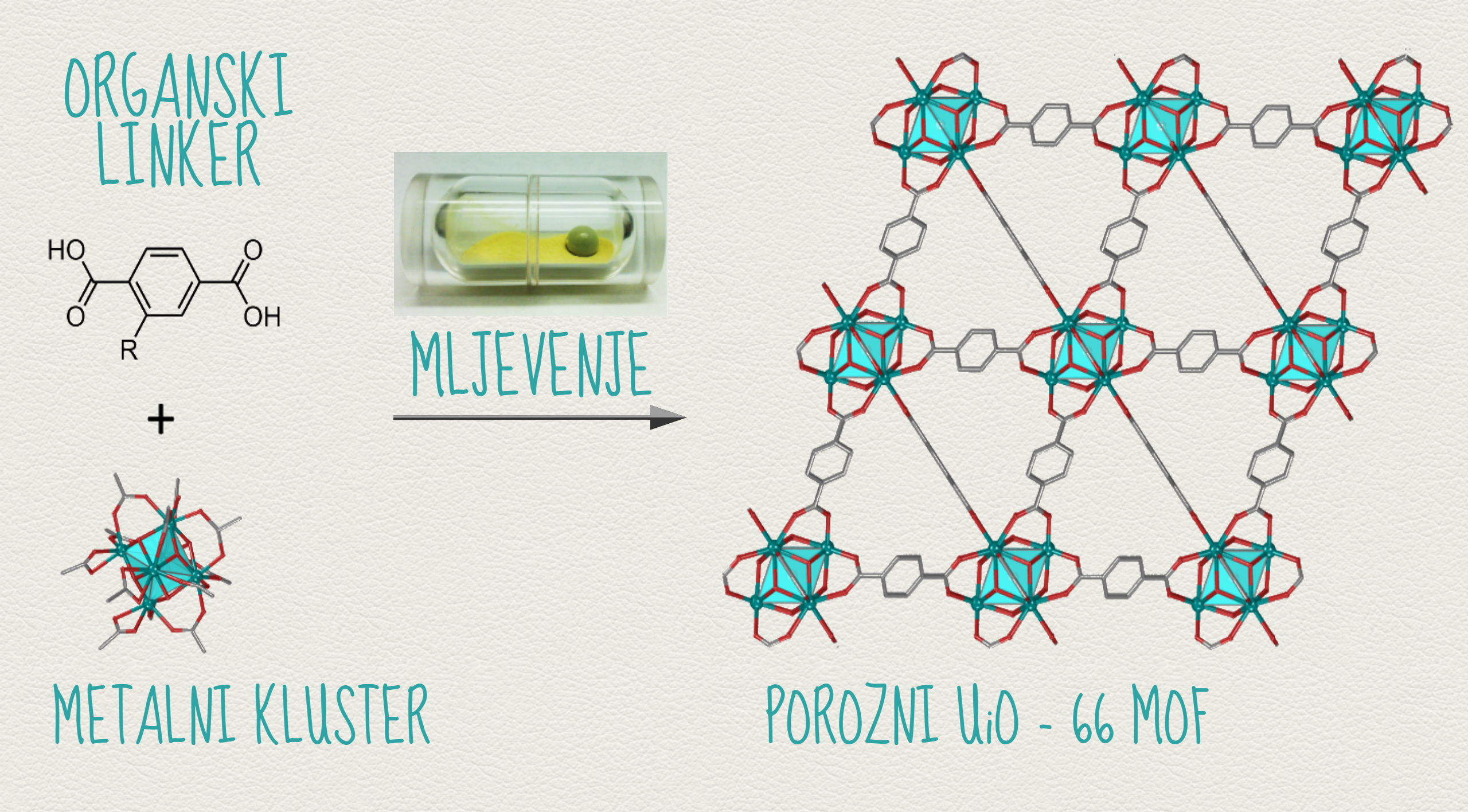 The RBI scientists of the Laboratory for Green Synthesis, in collaboration with their colleagues from the McGill and Norhtwestern University, developed a new, faster and environmentally friendly method for the synthesis of porous metal-organic materials using mechanochemistry.
The results of these studies, which will provide better energy savings and reduce the amount of chemical waste in the synthesis, were recently published by the two reputable scientific journals, Chemical Communications (IF: 6.834) and one of the world's most famous journals in Chemistry - Journal of the American Chemical Society (IF: 12.113 ).
Metal-organic frameworks (MOFs) are one of the most important study areas of modern chemistry of materials. They are polymeric compounds consisting of metal ions or clusters coordinated to organic molecules to form one-, two-, or three-dimensional structures that can be porous.
In some cases, the pores are stable during elimination of the guest molecules (often solvents) and could be used for the storage of gases such as hydrogen and carbon dioxide. Other possible applications of MOFs are in gas purification, in gas separation, in catalysis and as sensors.
''The growing importance of MOFs is reflected in their recent commercialization, which means that it is now possible to get some kind of these materials in a commercial way.
However, the main obstacle to greater use of these materials in industrial processes, and the cause of their high price is actually based on their synthesis, which is time consuming, requires a great deal of energy,  high temperature and produces a lot of waste that is difficult to recycle.'' – explains Užarević, Head of the RBI Laboratory for Green Synthesis.
In contrast to this, the new method developed by the research team is based on grinding of the starting materials in specially developed mechanochemical reactors without the use of strong acids, high temperatures or excess reactants.
''We developed the first mechanochemical and solvent-free routes for zirconium metal–organic frameworks, making the frameworks UiO-66 and UiO-66-NH2 accessible on the gram scale without strong acids, high temperatures or excess reactants.
The frameworks form either by milling, or spontaneous self-assembly by simply exposing solid mixtures of reactants to organic vapour. The generated frameworks exhibit high porosity and catalytic activity in the hydrolysis of model nerve agents, on par with their solvothermally generated counterparts.
These results have the potential to not only improve the wide accessibility of UiO-type MOFs but also to change the way microporous MOFs are synthesised in general.'' – explains the international team of scientists in their study published by Chemical Communications.
Moreover, by applying In situ synchrotron X-ray diffraction monitoring of the reaction course, scientists revealed two new phases and an unusual stepwise process in which a close-packed intermediate reacted to form the open framework.
The reaction can be performed on a gram scale to yield a highly porous material after activation. This processes were described in the study published by Journal of the American Chemical Society.
This research has shown not only that mechanochemistry is suitable for the synthesis of highly porous materials, but it also presents a significant contribution to the understanding and control of the mechanochemiical reactions.
Head of laboratory
Internal phone number:
1946