Fifth Lecture Presented in The Embassy Series Sponsored by the RBI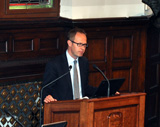 Yesterday in the Conference Hall of the Croatian Chamber of Economy, as part of The Embassy Series Sponsored by the Ruđer Bošković Institute, the Ambassador of Finland to the Republic of Croatia, His Excellency Juha Ottman, delivered a lecture entitled Finnish Innovation Policy – Successes and Challenges.
Ambassador Ottman noted that Finland plans to invest approximately 2 billion EUR in research and development during 2011, which represents an increase of 76 million EUR in comparison to last year. Together with the private sector, investment in research and development in Finland is approximately 7 billion EUR, which is around 4% of the GDP, and employs approximately 79,000 persons.
Although Finland is a small country of 5 million inhabitants, it is at the very top of world rankings in competitiveness, with exports making up around 40% of the GDP. In the early 1990s, following the collapse of the USSR, Finland found itself in a difficult economic situation because one of its major export markets had disappeared. This spurred the development of a strategy for encouraging innovation and technology, including all the areas of the society, particularly the educational system.
Some of the challenges that Finland faces today include the large bureaucratic system, dependency on the Nokia cluster, the need for greater focus on achieving results, strengthening the role of small and medium-sized enterprises (for example, Rovio – Angry Birds), competition from new economic powers (China, India etc.) and the low level of internationalism, said Ambassador Ottman.
The Embassy Series sponsored by the RBI was initiated for the purpose of exchanging ideas and improving Croatian cooperation with countries for which science and education are the foundations for the development of high technologies, as driving forces for the economic advancement of modern societies.