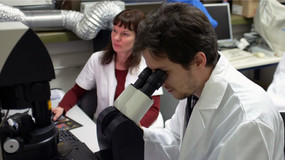 The project is funded by the European Union and the Republic of Croatia, in the amount of EUR 440,000, under the European Union's Transition Facility for Croatia, an interim instrument meant to strengthen the new Member States' national, administrative and judicial capacity to implement EU legislation in the first years of membership. The project was implemented by Mreža znanja Ltd., a consulting company from Zagreb, whilst project beneficiary is the Ruđer Bošković Institute (RBI).
Project started in December 2016 and officially ends in August 2018. In almost 20 months of its implementation the main goal is achieved, the contribution to the capacity building for technology transfer and commercialization of research results in the Republic of Croatia, which are of crucial importance for strengthening the cooperation between science and the economy in the development of innovative products and new knowledge.
The project redefined the organization and management model of the system of transfer of knowledge and the commercialization of research results of the Ruđer Bošković Institute, and new models of cooperation of the Institute with the economy are suggested in accordance with best practices. Also, training of its employees and key stakeholders have been organized.
During project implementation, numerous workshops were organized for the beneficiary and key project stakeholders, as well as study trips to international research institutions such as KU Leuven in Belgium, Die Technische Universität München in Brussels and University College London, UK. Additionally, networking events called "From Lab to Market", were organized between Ruđer Bošković Institute and companies coming from Food Processing, Pharmaceutical, Chemical industry, ICT, Environmental Protection Industry and Industry in the Security Sector.
After the opening remarks and presentations, a round table "Science and Economy: From EU Funds towards Market" will follow. Representatives of innovative entrepreneurs and scientific research organizations will discuss potentials and obstacles to successful cooperation, technology transfer and innovation in the development of the economy and the necessary changes of administrative and legislative frameworks which should enable effective cooperation between science, economy and public administration, and create a stimulating environment for the commercialization of research results and the knowledge transfer and technologies in the Republic of Croatia.