Finnish economy delegation visited the Ruđer Bošković Institute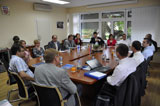 Leaders of the Finnish Central Chamber of Commerce and the World Trade Organization Helsinki, together with a group of seven directors from Finnish companies, visited the Ruđer Bošković Institut today. They met with Dr. Marin Roje, Assistant Director for Finance and Economy, Dr. Hrvoje Zorc, Advisor for Innovation and Technology, Dr. Tome Antičić, Advisor for Cooperation with Universities in Croatia, and Domagoj Oreb and Davor Aničić from Ruđer Innovations Ltd. The visit was organized by the Croatian Embassy in Helsinki and the World Trade Organization with the aim of considering the future cooperation and investments.
During their visit to Croatia, the Finnish delegation visited the Foreign Investment Promotion Agency, Croatian Chamber of Economy, Ministry of Foreign Affairs and European Integration, The European Bank for Reconstruction and Development, and some companies of possible interest.
This visit continues to already started initiatives by the Director General of the Ruđer Bošković Institute, Dr. Danica Ramljak and the Croatian Embassy in Finland.