Fourth Lecture of The Embassy Series Sponsored by the RBI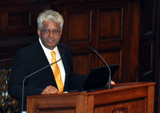 Ambassador Singh noted that the Indian economy is the fourth largest in the world, with an annual GDP of 1.3 billion dollars. Since 2002, the Indian economy has been in full swing and experienced an annual growth rate of 6-8%. As one of the fastest growing economies in the world and from the structure of the GDP, it is evident that most of the economy is based upon industry and services.
The foundations for the development of the Indian economy are the market size, size and educational level of the work force with proficiency in English, together with investment in research, development and education. India annually invests approximately 10 billion dollars in R&D. An announced 14% increase in spending on science during the year 2012 would amount to 8 billion dollars. The educational sector consists of 15 institutes for technology, 431 universities, 20,677 colleges and approximately 8,500 technical and research institutions. Over 150 large multinational companies have their research and development centers in India, including nearly all the major pharmaceutical companies.
In response to a question about how India has achieved such rapid progress and become the fastest growing large economy in the world, according to World Bank estimates, Ambassador Singh cited the events of 1991, when problems with the balance of payments had grown into a serious economic crisis. "When it became clear that India would not be able to meet its foreign liabilities, instead of raising new loans we sold the state gold reserves. Simply, we are a people who do not like to owe anyone anything." he said, adding that family businesses played a great role in Indian growth. He also touched upon the inevitable question of whether India will surpass China.
Regarding India and China, another economic superpower, Ambassador Singh said that India cannot be compared to China because they have different economic models but that India's advantage is that it has chosen the path towards a knowledge-based economy. Ambassador Singh noted that India mostly cooperates with Croatia in the field of science and technology, and announced new projects involving scientists from both countries.
The Embassy Series Sponsored by the RBI was initiated with the purpose of exchanging ideas and improving Croatian cooperation with countries for which science and education are the foundations for the development of high technologies, as a driving force for the economic advancement of modern societies.