IRB i partneri predstavili novi razvojni projekt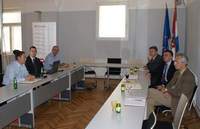 Omega Software Ltd. delegation and RBI representative Tomislav Šmuc, PhD, Head of the Division of Electronics, have recently presented the first results of the joint project 'Development of modules for the electronic document and information exchange in the office system as an upgrade of the Centrix business solutions' at the Central Office for e-Croatia.
The project was launched in January 2009 with the aim of defining the strategy for Centrix business solutions development as well as for its integration into other document management systems within the public administration bodies.
After the presentation the representatives further discussed about the e-Administration Development Strategy in the Republic of Croatia, the progress achieved and about the possible cooperation on its implementation.