Intellectual Property is the Driving Force Behind Croatian Economic Growth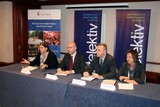 At the one-day business conference on intellectual property Intelektiv, which was held at the Sheraton Hotel, it was concluded that the Croatian system of intellectual property has developed to the highest international standards. The conference gathered nearly 150 participants from all over Croatia. The conference which included 14 lectures and two round table discussions discussed trends and future directions in the commercialization, management and protection of intellectual property, and valuable experiences were exchanged.
Representatives of the domestic business community and experts in the field of intellectual property rights, agree that the components of the system are complete - legislation, institutions, holders of rights, professional organizations. The highest international standards have been adopted in the Croatian system of intellectual property rights - Croatia is a member of more than 27 international agreements and conventions compliant with the norms of the European Union. However, experts warned of weaknesses in the system particularly in aspects such as acquisition of rights, violations of rights and business use of intellectual property.
The number of protected industrial property rights in Croatia is increasing, but the growth rate does not follow that of countries in Central and Eastern Europe. According to data presented at the conference, protected industrial property in Croatia for the most part consists of seals (95%) while industrial design (5%) and patents (2%) are far behind. Data on valid rights for 2009. year was also presented including 129,618 seals, 3.807 industrial design rights and 2339 patents.