Invitation to Startups: Join our One-Stop-Shop at AI4Health.Cro Hub!
Successfully launched European Digital Innovation Hub AI4Health.Cro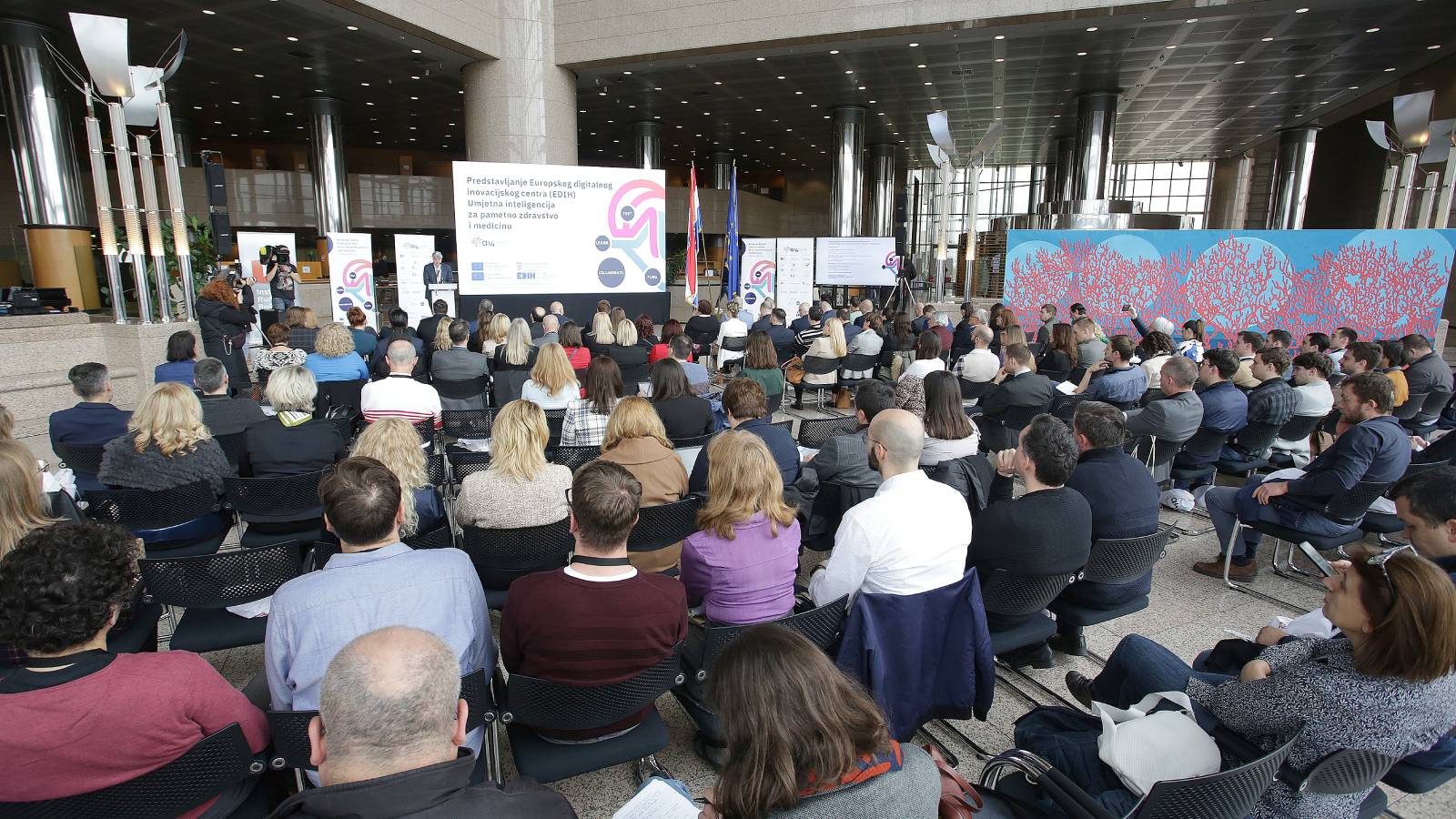 AI4Health.Cro is a non-profit public-private consortium of experts in the field of AI, healthcare and startups that sees artificial intelligence (AI) as the key to advancing healthcare and medicine. The consortium brings together 15 partners coordinated by the Ruđer Bošković Institute (RBI) and is funded equally under the Digital Europe Program and the Next Generation EU with 2.9 million euros for a period of three years.
Over the next three years, the AI4Health.Cro Hub will work on developing new AI-based tools and innovative solutions to improve the quality of healthcare. By collaborating with industry partners, healthcare providers, and researchers, AI4Health.Cro will provide services to small and medium-sized enterprises, startups, and innovators developing AI technologies for use in healthcare and medicine.
The aim of the event, organized by the IRB on behalf of the consortium, was to present the AI4Health.Cro project to all relevant stakeholders, future users and the media, and to provide startups and small and medium-sized enterprises with more information about the AI4Health.Cro hub and how it can help them safely test AI technologies in healthcare - for the benefit of patients, doctors and the entire healthcare and startup ecosystem.
As part of the 'small AI demo clinic' that the organizers put together especially for the occasion, the project partners presented MEGI Health, a digital assistant that prevents and monitors cardiovascular diseases, MESI mTablet, a certified medical device that integrates wireless diagnostic tools, patient records and medical apps for efficient and convenient healthcare practice, Cardiomatics, a cloud-based AI ECG analysis technology that can handle various data formats and recording lengths, SAVVY ECG, a portable device for long-term and precise heart rhythm monitoring and detection of deviations, vFFR, an angiographic method that assesses coronary physiology and calculates fractional flow reserve values, and advanced speech-to-text technology.
AI4Health.Cro functions a one-stop- shop!
European healthcare systems face staff shortages, long waiting lists, and increasing demand due to an ageing population, leading to financial constraints. AI is an important tool in the fast-growing digital health industry, with potential applications in all areas of the healthcare industry. The integration of AI is seen as critical to controlling and reducing healthcare costs and ensuring long-term sustainability. AI applications have the potential to free up 1.659 to 1.944 million man-hours each year and save 380,000 to 403,000 lives annually.
''The main goal of this project is to use the benefits of AI technology for the benefit of the Croatian healthcare system," emphasized Dr. Anja Barešić, coordinator of the AI4Health.Cro project, highlighting that the AI4Health.Cro hub is actually a one-stop-shop offering four types of services: a test-before-invest service, access to workshops and expertise, connecting innovators and startups to the European AI and digital health ecosystem, and support in connecting startups to incubators, venture capital funds, and EU funding experts. "If we want to be at the forefront of Europe, we can't wait for academic programs to develop, we need to develop our skills locally," Dr. Barešić emphasized.
To successfully deploy a new AI technology in healthcare, startups need a clearly defined goal, high-quality data, multidisciplinary expertise, and the ability to field-test the technology before investing. They also need to consider the ethical implications, ensure integration with existing systems, and ensure acceptance of the technology by users, i.e., physicians, healthcare professionals, and patients. "We offer them the opportunity to safely test their technologies in collaboration with clinics and hospitals so that the solutions developed can be adapted to the needs of the end users," explained Dr. Barešić.
AI4Health.Cro partners come from both the private and public sectors, including the Croatian Artificial Intelligence Association  - CroAI, the Ministry of Health of the Republic of Croatia, Magdalena, Clinic for Cardiovascular Medicine, Dom zdravlja Zagreb - Centar, the Croatian Institute of Public Health, the Croatian Health Insurance Fund, University of Split School of Medicine, Faculty of Engineering of the University of Rijeka, Zagreb Innovation Center - ZICER, Croatian Healthcare Employers Association, Mreža, FeelsGood Capital Partners, as well as the successful companies Ericsson Nikola Tesla, IN2 and NEWTON Technologies Adria.
The project partners from the private and public sectors provide users with access to multidisciplinary expertise in assessing the digital maturity of technologies, supporting technology development and adaptation to user needs, supporting technology transfer, incubator expertise in creating and managing projects, access to funding programs, and expertise in ethical and legal regulations.
In addition, the consortium has a real-time overview of AI landscape thanks to the CroAI, which is one of the main partners of the project and has been continuously researching the AI landscape in Croatia since 2020. Moreover, within the AI4Health.Cro hub, CroAI plays a role in connecting all stakeholders in this system through various matchmaking and networking events and will participate with other partners in the creation of educational and workshop plans and their implementation.
Providing pool of experts and know-how
Magdalena, Clinic for Cardiovascular Medicine is the lead partner of the Test-Before-Invest work package, with the mission to organize the selection and testing of innovative technologies to achieve the greatest potential and impact on the healthcare system in Croatia and the EU. Testing innovative ideas in the early stages of development in the healthcare industry is challenging, as technologies are usually not adapted to clinical processes and are often developed without patient contact. For the success of digital health in Europe, it is important that the technology is regulated, has a proven clinical benefit and is integrated into existing clinical processes,'' emphasized Dr. Nina Šesto, project coordinator for health and deputy director of Magdalena Clinic.
Newton Technologies Adria, which has developed a speech-to-text system specialized in medicine, is an example of a successful AI application in healthcare. As Director Marko Poljak explained, they will advise interested startups, guide them in finding early adopters, build the market and help them by pointing out possible mistakes in the business steps. Ericsson Nikola Tesla's role in the project is to provide innovation testing services prior to investment as well as training.
IN2 Group has several years of experience in digitizing healthcare, from the mobile electronic health record it launched nearly a decade ago to mobile access to the system for nurses and doctors. The company has a large user base in healthcare that uses its systems on a daily basis. As part of the AI4Health.Cro hub, they play a role in communicating with data collected in hospitals, meaning they allow startups to access standard data sets and develop their solutions based on that data.
How will AI4Health.Cro Hub deliver success to AI startups?
Innovation in the healthcare industry is essential to improve patient outcomes and reduce costs. Startups, however, often face significant challenges in accessing the resources they need to bring their ideas to life. This topic was the focus of a panel discussion moderated by Antonija Bilić Arar, journalist and editor at technology portal Netokracija.
Several experts participated in the panel discussion, including Hrvoje Belani, Head of Sector for IS Implementation and Improvement at Directorate for e-Health at Ministry of Health, Nina Šesto, Director of Digital Health at Magdalena, Clinic for Cardiovascular Medicine & AI4Health.Cro Coordinator for Healthcare, Ino Protrka Director at Health Center Zagreb - Centar / Dom zdravlja Zagreb – Centar, Marko Poljak, CEO of Newton Technologies Adria, Marijana Sarolic Robic, Vice President of CRO STARTUP Association and Matija Nakic, Co-Founder of Faseer and Vice President of CroAI
During the panel, the group discussed the technologies used in Magdalena Clinic and Dom zdravlja Zagreb - Centar, as well as the proactive approach of the Ministry of Health towards AI initiatives. Hrvoje Belani emphasized the importance of data access for AI development and the need to comply with privacy regulations. He also mentioned that there are global efforts to develop AI systems for healthcare and medicine, and the Ministry of Health has recognized this need.
Matija Nakić and Marijana Šarolić Robić pointed out that AI is not just some sort of magical dust that would easily solve all problems, but rather a useful tool. However, the most important factor for the effective use of this tool is the organization of data, because without good data there can be no good AI.
The discussion stimulated a dialog between startups and industry experts, including those that have already successfully gone through the process and those that are still in various early stages.
Overall, the panel emphasized the potential of AI for healthcare innovation and the importance of collaboration between startups and industry experts. Dr. Nina Šesto summed it up by saying, "The potential is recognized, and we have three years to do great things."
This is an honour and a great responsibility
In his opening remarks, Dr. David M. Smith, RBI Director Genera, emphasised the importance of collaboration between government, experienced companies, startups, and the academic community to move forward in the fast-growing world of innovation and technological advancement. He highlighted the strength of their partners in technology, academia and the public sector, and called on innovators and startups to join the project team and help citizens take advantage of new technologies such as AI in healthcare and medicine.
Dr. Smith expressed his pride and sense of responsibility as the director of the Institute coordinating such a complex project.
Sandro D'Elia, Programme Officer from the European Commission addressed the audience in a video message, explaining the role and mission of the EDIH network and wishing the consortium success in its project.
Hrvoje Belani, who addressed the participants on behalf of the Ministry of Health, highlighted the need for the application of AI in healthcare, which the Ministry recognises, and stressed the importance of efforts to create databases that allow citizens to access their medical data and medical institutions to use the data to develop new technologies and medical procedures. He expressed satisfaction with the cooperation between the Ministry, RBI and partners in the development of the AI4Health.Cro project.
Dr. Hrvoje Meštrić, speaking on behalf of the Ministry of Science and Education, emphasised the importance of creating a prestigious European hub for digital innovation in Healthcare, which will serve as an intermediary between healthcare institutions and companies in the development and implementation of AI-based digital health solutions.
The role of EDIHs, of which there are four in Croatia, was also highlighted by Hrvoje Bujanović, State Secretary at the Ministry of Economy and Sustainable Development. He stated that EDIH AI4Health.Cro will make an important contribution to the digitalization of medicine and healthcare, with a special focus on AI and HPC, by providing services to small and medium-sized enterprises and the public sector.
Projekt financira Europska unija u sklopu programa NextGenerationEU. Projekt je sufinancira Europska unija iz programa Digitalna Europa (DIGITAL).
A
B
Research associate
Internal phone number:
1891