Joint RBI-IBM Workshop on High Performance Computing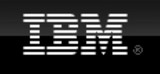 A joint RBI-IBM workshope was held today on High Performance Computing. The aim of the workshop was to present a summary of the present and future requirements of RBI for centralized computer resources, and the possibility of upgrading these resources through collaborations with IBM. The workshop was attended by RBI Director-general, Dr. Danica Ramljak, RBI assistant director for international collaborations and projects, Dr. David Smith, Dr. Vuko Brigljević and several other RBI scientists who make use of supercomputers and computer clusters in their scientific research. Additionally, the workshop was attended by Dr. Paul Seidler, director of the department of Science and Technology in IBM's research center in Zurich as well as Mr. Alessandro Curioni and Mr. Maciej Remiszewski.
A successful collaboration between RBI and IBM began in April 2010 with a working meeting between RBI Director-general Dr. Danica Ramljak and representatives of IBM-Croatia Mr. Damir Zec and Mr. Daniel Šimić. At this initial meeting discussions were held on the possibility of collaboration in the areas of science, technology and education with particular emphasis on a partnership between RBI and IBM in the formation of a regional research centre focused on biotechnology and nanotechnology similar to IBM centres in Zurich, Switzerland and Sofia, Bulgaria.
This collaboration continued with a visit by Dr. Ramljak and Dr. Marin Roje, assistant director for finance (RBI) to the IBM research laboratories in Zurich organized by IBM-Croatia Director, Mr. Krešo Perica and services director, Mr. Damir Zec.
IBM is a leading international corporation in the areas of research and development, business consulting and IT implementation. IBM globally employs almost 400,000 people and generates annual revenues of 95,8 billion USD.