Mayor Bandić Attends a Meeting at the RBI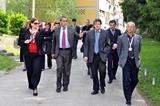 Cooperation between the Croatian capital and our largest scientific institute began five years ago, when the first contracts were signed. After today's meeting, many areas were opened for future cooperation. According to Mayor Bandić, one of the projects of capital importance to the city of Zagreb is the rehabilitation of the lakes of the biogenetic Savica Nature Reserve, compromising 12 interconnected lakes and home to protected species of flora and fauna. The mayor emphasized that he believes that there is no more qualified institution than Ruđer to conduct the preparation and analysis, and to propose how this ecological reserve should be rehabilitated.
In connection with European projects of mutual interest, the mayor invited the Institute to join the initiative of the city and University of Zagreb to establish an office in Brussels for the purpose of more efficient use of financial resources from EU funds. At the meeting, the mayor informed those present that the city budget for this year had set aside funds for some of the important infrastructure projects at the Institute.
At the end of the meeting, Mayor Bandić emphasized that for a "serious city, serious municipal government and serious mayor, the RBI is the umbrella Zagreb and Croatian institution, so that not to use all of Ruđer's resources in our own city would be irresponsible and foolish". In conclusion, he said: "In the future, the city will cooperate more closely with the Institute – on domestic terrain – regarding projects that trouble the city of Zagreb, such as several environmental and economic projects, through cooperation in connection with structural funds and joint representation in Brussels".