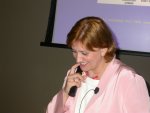 Danica Ramljak, D.V.M., Ph.D was elected to a four year term as the new Director of the Rudjer Boskovic Institute at the meeting of the Board of Governors held on 24th March 2009.
Danica Ramljak will be the first lady director in the Institute`s 60-year-long history after she assumes her new position on 15th May. The Institute's Board of Governors elected Ramljak as the best of seven candidates who had applied for the position.
During the elections all the candidates presented their programs at the joint sessions of the Scientific and Governing Council held on 10th and 17th March 2009. After consideration of opinions by the Tender Board and the Scientific Council, the Board of Governors has elected Danica Ramljak for the term 2009 - 2013.
The new Director has over 15 years of experience in molecular carcinogenesis, toxicology, pharmacology and pathology in the USA. She has extensive hands-on experience in a wide range of molecular biology methods, including genomics and proteomics, and has performed molecular studies focused on both tumour cell survival and apoptosis pathways of breast and liver cancers. Besides research activities, her academic responsibilities have included the teaching and grant writing. Prior to founding Medora Global Consultants, she served as a consultant to several biotechnology and pharmaceutical companies and has perfected her managerial skills.