Nobel laureates and international scientific elite attend 300th anniversary of the birth of Ruđer Bošković in Dubrovnik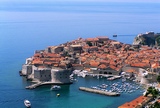 A first meeting of the working committee responsible for planning of the celebratory events marking the 300th anniversary of the birth of Ruđer Bošković was held yesterday at the Dubrovnik city hall. The meeting was attended by the mayor of Dubrovnik, Andro Vlahušić, the deputy mayor Tatjana Šimac Bonačić, members of the Dubrovnik city committee for culture and Dr. Danica Ramljak, director-general of the Ruđer Bošković Institute.
In May, 2011 the Ruđer Bošković Institute in collaboration with the city of Dubrovnik will organize a scientific symposium, with the working title From Ruđer Bošković to today: the contribution of Croatian scientists to the world's scientific heritage. The symposium will bring together over 30 of the most eminent Croatian scientists from both Croatia and abroad, as well as members of the international scientific elite including several Nobel laureates from the fields of biomedicine, chemistry and physics. In addition, beginning in 2011 a number of joint projects between RBI and the Bishop's Ruđer Bošković Classical Gymnasium in Dubrovnik will be initiated. This prestigious secondary school is housed in the Collegium Ragusinuma where Ruđer Bošković himself was educated.
Dr. Ramljak pointed out that Ruđer Bošković was a member of four prestigious academies in Bologna, Paris, St. Petersburg and London, and that today his name represents a stronger scientific brand in the world than in Croatia itself and so it is necessary to continue to affirm and present his greatness, and the forthcoming anniversary of his birth is a perfect opportunity for this. As part of the symposium to be held in Dubrovnik, a presentation will be held of Ruđer Bošković's Dubrovnik days in which his work and writings during his time in Dubrovnik will allow scientists from all over the world a glimpse into the scientific tradition of Dubrovnik in the 18th century.
On the suggestion of Dr. Ramljak, the mayor of Dubrovnik, Andro Vlahušić has begun the process of obtaining the relevant approvals for the placing of Mestrovic's sculpture of Ruđer Bošković on Bošković's poljana. One cast of this sculpture is currently at the Ruđer Bošković Institute in Zagreb, and the placement of the same sculpture in Dubrovnik, which has been planned since 1940, will serve to connect Ruđer's Dubrovnik with the RBI in Zagreb. The celebrations to be held in Dubrovnik will coincide with the central celebration of the 300th anniversary which will be held May 18, 2011 in the Vatroslav Lisinski Concert Hall in Zagreb.