Opening Ceremonies: From Ruđer Bošković to Today – Contribution of Croatian Scientists to the World Scientific Heritage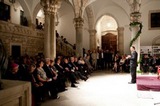 The opening ceremonies began at 8:30 p.m. with a protocol entry to the city at the Pila Gate, after which the guests were directed to the Dubrovnik cathedral, where they listened to a eulogy to Ruđer Bošković, which had been commissioned by the Rector of the Republic of Dubrovnik in May 1787. At the completion of the eulogy, soloists, choir and orchestra of Croatian Radio-Television, conducted by Maestro Vladimir Kranjčević, performed a Requiem composed in Bošković's memory at the request of his great friend, Miho Sorgo-Sorkočević, by Julije Bajamonti, a distinguished Croatian physician, writer and composer. Following the program in the cathedral, the guests were directed to the Rector's Palace, where the festive program continued.
In welcoming remarks, Dr. Danica Ramljak said: "One of the symposium objectives was to examine whether this great scientist who worked in eight European countries could be a model for modern science." The Minister of Science, Dr. Radovan Fuchs, said that Ruđer Bošković could be a role model for today's generation: "With his life and work, he tells us that excellence and talent should always be developed and encouraged because excellence means creating added value in all segments of society."
The symposium was organized by the Ruđer Bošković Institute, the city of Dubrovnik and the Diocesan Classical Secondary School in celebration of the 300th anniversary of the birth of Ruđer Josip Bošković, one of the greatest and most famous Croatian scientists and philosophers in the world. During the symposium, lectures were delivered by some of the most prominent Croatian scientists in the homeland and abroad, as well as some of the leading scientists in the world, such as the 1984 Nobel Laureate in Physics, Carlo Rubbia; the Director General of CERN, Rolf Heuer and the Chairman of the Research Board and Professor of Physics at Princeton University, A. J. Stewart Smith.
On Tuesday, May 31, an all-day excursion was organized on the island of Lokrum, at which approximately seventy young scientists from the Ruđer Bošković Institute and Croatian universities had the opportunity to meet and exchange experiences with the world-renowned scientists who lectured at the symposium.
This anniversary is truly a unique event in our country, which will contribute to the creation of a brand, based not only upon the brilliant scientist Ruđer Bošković but also upon Croatia as a country with the potential to change society for the better through science.