Posjet potpredsjednika Vlade i ministra za nauku i tehnološki razvoj Republike Srbije mr. sc. Božidara Đelića Institutu Ruđer Bošković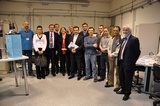 A delegation headed by the Deputy Prime Minister for European Integration and Minister for Science and Technological Development of the Republic of Serbia Božidar Đelić visited the Ruđer Bošković Institute today.
Dr. Danica Ramljak, Director-General of the RBI and her associates held a working meeting with the Serbian Deputy Prime Minister Đelić on the topic of future cooperation between RBI and scientific institutions in Serbia in research areas of physics, chemistry, molecular biology, medicine and environmental protection.
During their working meeting special emphasis was placed on sharing RBI experience with scientific institutions in Serbia. RBI associates were particularly interested in Deputy Prime Minister Đelić's strategies with respect to financing science in times of crisis.
In Serbia, on the initiative of the Serbian Deputy Prime Minister Đelić on May 23rd a five-year cycle of funding of scientific and technological infrastructure projects worth 500 million Euros will begin. Funding will be provided from the Serbian state budget, pre-accession EU funds, and in cooperation with the European Bank for the reconstruction and development and the Council of Europe Development Bank.
The working meeting attended by Nevenko Bilić, PhD , Chairman of the Scientific Council of the RBI, Đurđica Ugarković PhD, Assistant Director for Science and Education, Mary Sopta, PhD, Advisor for the International Cooperation, Marin Roje, PhD, Advisor for economic relations and Tome Antičić, PhD, Advisor for Cooperation with Universities in Croatia.
Upon completion of the working meeting the delegation led by Deputy Prime Minister Đelić visited laboratories and institutes in RBI.