RBI Congratualtes Dr. Nela Pivac on Award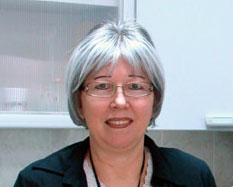 Nela Pivac, PhD, Senior Scientist at the Ruđer Bošković Institut was presented with the Ante Šercer Award by the Academy of Medical Sciences at the special award ceremony held today at the Croatian Medical Association.
The Award was presented in recognition of the best scientific paper published in the year 2011. The acknowledged paper describes valuable research which explores the connection between the distribution of brain derived neurotrophic factor (BDNF) Val66Met and Alzheimer's disease.
The paper titled 'Brain derived neurotrophic factor Val66Met polymorphism and psychotic symptoms in Alzheimer's disease' which was published in Progress in Neuro-Psychopharmacology & Biological Psychiatry shows for the first time that distribution of the BDNF Val66Met genotypes differed significantly between male and female AD patients with or without psychotic symptoms.
The additional special value of this work lies in its multidisciplinary since it brought together scientists and clinicians from medical institutions, researchers from the University Hospital Centre in Zagreb, University of Zagreb School of Medicine, Institute for Medical Research and Occupational Health in Zagreb, Psychiatric Hospital 'Sveti Ivan', Psychiatric Hospital Vrapče and Ruđer Bošković Institute.
RBI congratulates Dr. Nela Pivac for the outstanding work and results.