RBI Scientist on the EC Homepage featuring Croatian Success Stories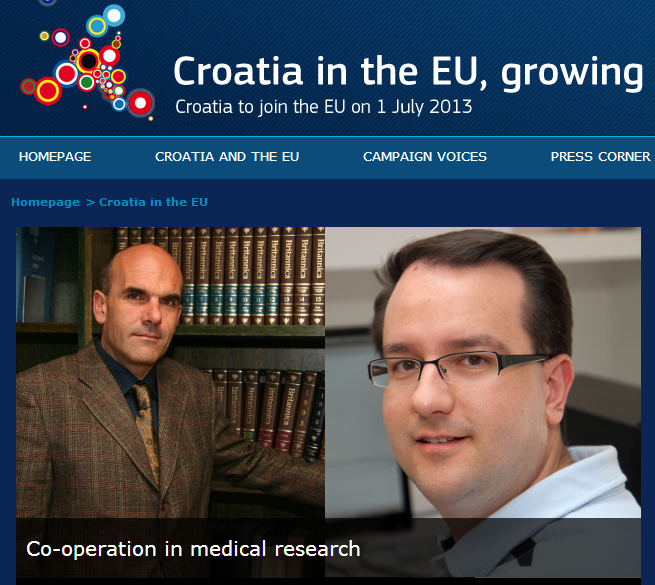 The European Commission in Brussels has announced Croatia's becoming a full member of the European Union releasing success stories about our people from different fields of activity published at their official website. The homepage of the EC website thus features stories on the athlete Blanka Vlašić, actresses Zrinka Cvitešić and Nera Stipičević, writer Slavenka Drakulić, film director and scriptwriter Ognjen Sviličić, but also a report on the scientific achievements of Ruđer's own Robert Vianello, PhD, in the field of neurodegenerative diseases, accomplished through a long-term collaboration with the team of Janez Mavri, PhD, at the Chemical Institute in Ljubljana, Slovenia. 
A direct cause of this remarkable recognition were the research results of Robert Vianello, PhD, senior research associate at the Ruđer Bošković Institute, Division of Organic Chemistry and Biochemistry in the area of elucidating biological processes in the human brain responsible for the occurrence and development of conditions such as Alzheimer's, Parkinson's and Huntington's diseases and various forms of depression, which present a growing and mainly incurable problem for the global health with frequent lethal consequences within 7 to 12 years from the initial diagnosis. To be more precise, after cardiovascular conditions and tumour, neurodegenerative conditions are the third most common cause of death worldwide, and the global treatment expenses are estimated at over one trillion US dollars annually, which is to say three times more than the cost of treating tumours.
The accomplished research results have been realised primarily owing to two FP7-PEOPLE projects, which dr. Vianello has obtained at the competitions of the European Seventh Framework Programme (FP7), and for which he has already received two acknowledgements- the "50,000th Marie Curie Fellowship Award" in December 2010 and the "Marie Curie Success Story" in April 2012. This latest recognition by the European Commission is the best proof of the quality, recognisability and wide significance of Vianello's work in this research area, which should also encourage multidisciplinary research for the purpose of improving the quality of life for people diagnosed with these progressive conditions, especially due to the fact that all existing medicines are highly limited, treating only the symptoms and not the causes of the diseases, as well as the fact that their application is associated with a series of undesirable side effects.
"We hope that our insights and continued efforts on this problem will contribute to improved know-how on neurodegenerative conditions and to long-term enhancement of clinical neurology through the development of novel and more efficient treatments against numerous neurodegenerative diseases", concluded Vianello.