RBI Scientists to Participate in Three Croatian–Chinese Projects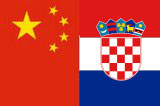 RBI scientists Branko Pivac, PhD, Nikola Basarić, PhD, and Irena Ciglenečki-Jušić, PhD, were granted three Croatian-Chinese bilateral projects based on the Protocol signed at the 4th session of the Croatian-Chinese Commission for Scientific and Technological Cooperation which was recently held in Beijing.
The Protocol defines 12 bilateral projects to be financed by the Croatian and Chinese Ministries of Education and Science over a two-year period. The project funds have been allocated pursuant to the Agreement on Scientific and Technological Cooperation signed on 11 June 1994 between the Government of the Republic of Croatia and the Government of the People's Republic of China in Beijing.