RBI and FER Sign an Agreement of Cooperation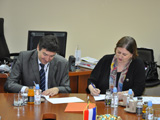 Today Dr. Danica Ramljak, Director General of the RBI and Dr. Vedran Mornar dean of the Faculty of Electrical Engineering and Computing (FER) signed an agreement of cooperation. The agreement aims to develop multidisciplinary cooperation between RBI and FER in the context of the European Research Area (ERA) by implementing cutting edge eScience technology.
The continuous development of new technologies in the research world necessitates maximal use of intellectual capital in the quest to maintain competitiveness. Exceptional educational technology in the ICT domain at FER guarantees an environment conducive to talented young experts in realizing their joint research projects and development of solutions to complex problems in the research laboratory environment at RBI.
This joint initiative and implementation of projects aims to increase the quality and success rate of submitted project proposals. In addition, this agreement hopes to create a framework in which young scientists and students will be engaged through the ERA in a high quality graduate education.
The agreement foresees cooperation in the area of research and development and EU projects (FP7), as well as strategic development programs for the Republic of Croatia. New university study programs are envisioned as support for the development of innovation and the creation of Centres of Excellence.