Ruđer Bošković Institute Scientists Present Research Results to President Milanović on Effects of Microplastics in Aquatic Ecosystems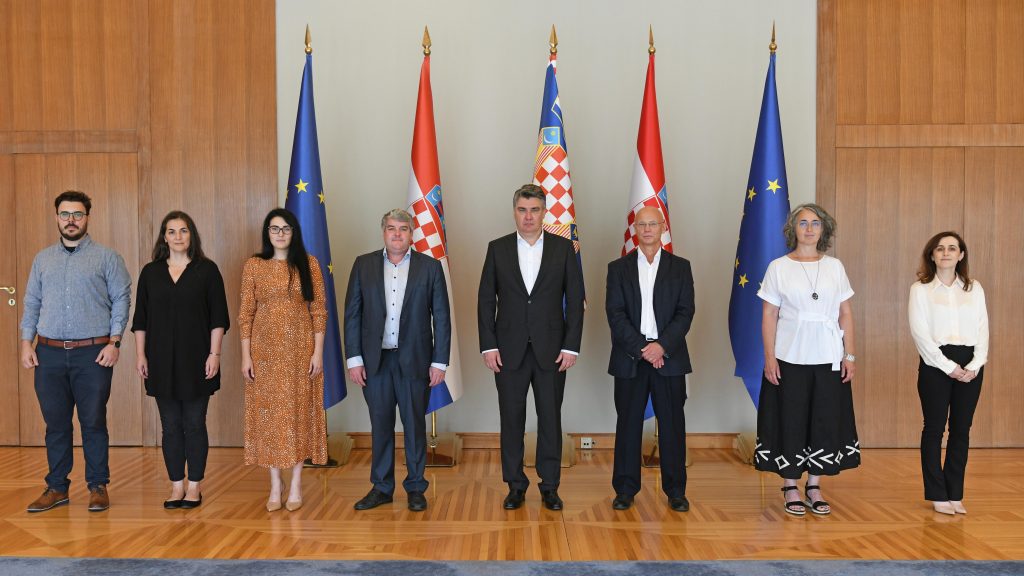 The President of the Republic Zoran Milanović received today scientists from Ruđer Bošković Institute and their associates, accompanied by the Director Dr. David Matthew Smith, on the occasion of Nikola Tesla National Day – Science, Technology and Innovations Day observed on 10 July.
The heads of research Dr. Nives Matijaković Mlinarić and Dr. Jasminka Kontrec with their scientific associates Dr. Branka Njegić Džakula and Dr. Damir Kralj of Ruđer Bošković Institute, Dr. Atiđa Selmani of the Institute of Pharmaceutical Sciences of the University of Graz, and PhD student Antun Lovro Brkić of the Institute of Physics of Zagreb, presented their innovative research to President Milanović.
Namely, the scientists while studying the interaction between microplastic particles and calcium carbonate obtained significant results. These results indicate that exposure to microplastics in dissolved organic matter present in aquatic ecosystems enhances the incorporation of such modified microplastics into calcium carbonate, which is the principal inorganic component of shells, corals and other aquatic organisms.
They emphasized that the longer plastic is present in aquasystems, the more dangerous it becomes, and from the primary form of plastic such as bags or plastic bottles, it is degraded by actions in nature into secondary microplastics, smaller particles that penetrate organisms.
They indicated that for this research they worked in the scope of the project "Can we clean the oceans and seas from microplastic by using calcium carbonate encapsulation?" funded by the European Institute of Innovation and Technology, EIT Climate-KIC Alumni 'Participatory Grant-making' Programme, and the project of the Croatian Science Foundation, and that the results of the research were published in the prestigious science journal "Environmental Chemistry Letters".
Alongside President Milanović was the Adviser to the President for Education Jadranka Žarković.
Source: predsjednik.hr