Ruđer Researchers Receive State Awards for Science for 2010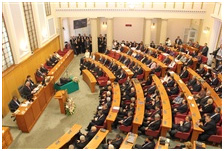 Today, at a special session of the Croatian Parliament, State Awards for Science were presented to scientists, researchers and research assistants for exceptionally important achievements in scientific research, the expansion of scientific knowledge and achievements in the applications of the results of scientific. In four categories, a total of 26 science awards were presented, two of which went to Ruđer scientists.  Biserka Kojić-Prodić, Ph.D., received an award in the lifetime achievement category and Nevenko Bilić, Ph.D., in the category of the Annual State Award for Science.
The Lifetime Achievement Award was presented to Dr. Biserka Kojić-Prodić, scientist emeritus of the RBI, in recognition of her overall scientific research and exceptional contribution to the expansion of scientific knowledge and the application of results in the field of the natural sciences. Dr. Kojić-Prodić earned a doctorate from the Faculty of Science inZagreb. Since 1960, she has worked at the Ruđer Bošković Institute, initially as a technician at the former Department of Structural and Inorganic Chemistry. In 1981, she became the head of the X-Ray Laboratory and in 1997 the head of the Laboratory for Chemical and Biological Crystallography, Division of Physical Chemistry of the RBI.  The area of research in which Dr. Kojić-Prodić is engaged is X-ray crystallography. During her scientific career, she was the head of numerous Croatian and international scientific programs. She is a member of theEuropeanAcademyof Sciences, the International Commission for Chemical Crystallography, and the president of theNationalAffiliatedCenterof theCambridgeCrystallographicDataCenterforCroatia,SloveniaandMacedonia. She is also a reviewer for a number of international journals. In 1971, she received the Ruđer Bošković Republican Award and in 1997 an award from theCroatianAcademyof Arts and Sciences.  Dr. Kojić-Prodić wrote over 230 scientific papers, which have been cited approximately 2,500 times.  
Dr. Nevenko Bilić, a senior research scientist at the RBI, was presented the Annual State Science Award for scientific achievements in the area of the natural sciences and for his significant scientific contribution in the unification of dark matter and dark energy in quartessence models. Dark matter and dark energy are two different substances that make up over 95% of the mass/energy of the universe. In quartessence models, both substances are described by a unified field as a single entity. This approach suggests a unique solution to the two most important problems of modern cosmology: cosmological constant and dark matter. 
The recipients of the 2010 State Awards for Science were chosen by the Selection Committee for the State Awards for Science at a meeting held on July 12, 2011, in the Croatian Parliament. The State Awards for Science were presented to the laureates by the Minister of Science and Education, Dr.  Radovan Fuchs, and the Speaker of the Croatian Parliament, Mr.  Luka Bebić.