Sponges: a simple organism with a complex genome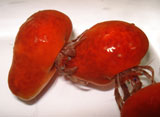 RBI scientists Matija Harcet, Helena Ćetković and Drago Perina from the Laboratory for Molecular Genetics in collaboration with Kristijan Vlahoviček and Maša Roller (PMF, University of Zagreb and Prof. Werner Muller and Matthias Weins from the University of Mainz have published an article entitled "Demosponge EST sequencing reveals a complex genetic toolkit of the simplest metazoans" in the prestigious journal Molecular Biology and Evolution.
The article shows that sponges, even though they represent the oldest group of animals (metazoa) and are morphologically simple, havea comlex genome as evidenced by the number and functional repertoire of genes. In addition, a number of unusually high homologies were found between proteins in sponges and in man which indicates a slow evolution of these two lineages. The importance of this work lies in the fact that is the first systematic study of the sponge genome which furthers our understanding of the evolution of the entire group of metazoa.