Strategic Meeting Held on Cooperation between the Ruđer Bošković Institute and Agrokor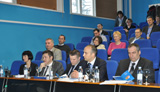 The objective of the meeting was to determine areas for cooperation. Approximately twenty RBI scientists presented concrete proposals for possible cooperation, based on specific methods and technologies that follow global trends in the application of high-tech knowledge, which could be of use to Agrokor for improving manufacturing processes and product quality in the food industry.
Mr. Todorić said that it was a particular honor to be at the Ruđer Bošković Institute and expressed the desire for even better cooperation between Agrokor and the RBI, which started in 2006. Furthermore, Mr. Todorić pointed out that Agrokor, the largest private company in Croatia and one of the strongest companies in Southeast Europe, needs knowledge and high technology for its high-tech products to be more competitive on the market, and the RBI is the ideal partner. Mr. Todorić invited the entire Croatian business sector to follow the example of Agrokor and the RBI, and work on improving cooperation between Croatian science and business. He also invited the scientists at the Institute to inspect Agrokor's production facilities and define future cooperation with their experts more precisely.
The Assistant Director of Finance of the RBI, Dr. Marin Roje, said that science and technology are powerful factors in the development of modern society and underscored the importance of strengthening further cooperation between the RBI and Agrokor. In this sense, the RBI can be a strong partner in the area of the potential development of new technologies, providing specific services in product control, knowledge transfer and the training of Agrokor employees. Dr. Roje also noted that in some areas of research, the RBI has scientific equipment and expertise that are unique in the Republic of Croatia and the region, and can contribute significantly to improving existing technological processes at Agrokor.