Symposium Held on "IVAN SUPEK - Scientist and Humanist"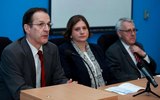 A symposium on "Ivan Supek - Scientist and Humanist" was held today at the Ruđer Bošković Institute marking the beginning of a series of events celebrating the 60th Anniversary of the Institute. The Symposium was opened with remarks by the Director General of the RBI, Danica Ramljak, PhD, Aleksa Bjeliš, PhD, Rector of the University of Zagreb and Academician Milan Moguš, PhD, President of the Croatian Academy of Arts and Sciences (HAZU). More than seventy guests attended the symposium.
Five plenary lectures were presented on the life and work of Ivan Supek, Croatian physicist, philosopher, writer, peace advocate, humanist and founder of the RBI. Plenary lecturers included prominent scientists and academicians, Ksenofont Ilakovac, PhD, Ivo Šlaus, PhD, Vladimir Paar, PhD, Kruno Pisk, PhD, and Vladimir Knapp, PhD.
Academician Ivan Supek is considered to be the father of modern science in Croatia. He was among the first to note that modern science requires the motivation and training of young scientists as well as the development of multidisciplinary research institutions. He was founder of the RBI which was modeled on the Bohr Institute in Copenhagen. Thanks to his vision, the RBI grew from originally being an Institute for Theoretical Physics into the multidisciplinary institute it is today. The RBI is currently an institution of particular importance for research and development in the Republic of Croatia particularly in the areas of natural science and biomedicine and economic development.
Following the symposium a permanent exhibition of photographs commemorating RBI founders was opened and a booklet of their biographies was presented.