Terry Fox Run Donates 500.000 kuna to the RBI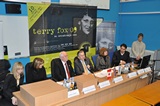 Organizers of the Terry Fox Run in Zagreb, the Canadian embassy in Croatia, MPG, the Croatian League Against Cancer, Zagreb Holding and the Regent Esplanade, held a press conference today at the the RBI to hand over a donation in the amount of 500.000 kuna to Sonja Levanat, PhD, from the Department of Molecular Medicine at the RBI. This donation will aid Dr. Levanat's work which is aimed at research and treatment of hereditary forms of breast and ovarian cancer.
Dr. Levanat stated that this generous donation will facilitate the development of less expensive genetic tests for women with hereditary breast cancer assuring that these women receive information crucial to their health and well being. This type of testing will allow physicians to more closely monitor those women who fall into high risk categories for familial breast cancer, and prescribe appropriate surgical and chemotherapeutic regimens in a timely fashion.
The donated funds will be used to purchase chemicals and equipment needed to determine mutations in genes known to be associated with familial predisposition to breast and ovarian cancer. This type of testing is routinely done in the Laboratory for hereditary cancers at the RBI.
The Terry Fox Run in Zagreb, Croatia has to date raised over 3.5 million kuna for cancer research and allowed for significant progress in the research and treatment of this disease in Croatia. The organizers expressed their satisfaction with the fact that the Terry Fox Run has been instrumental in raising awareness toward the fact that prevention is a critical component in the fight against cancer and thanked all those volunteers and supporters of the Terry Fox Run for their generosity and dedication to the event.