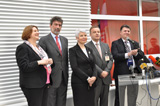 The new "Cyclone 18/19C" cyclotron at the Ruđer Bošković Institute was officially opened today. This cyclotron is one of the most modern in Europe and represents a joint science/industry venture involving the Ruđer Bošković Institute, Ruđer Innovations Ltd. and Medikol Ltd. The total project is valued at 7 million Euros. In addition to providing radiopharmaceuticals for medical diagnostics, the cyclotron will also be used for basic scientific research in the fields of physics, radiochemistry and biomedicine.
The major user of the radiopharmaceuticals produced by the cyclotron will most certainly be the Poliklinika Medikol, which already has the most advanced PET/CT centre in the region. The new cyclotron will supply radiopharmaceuticals not only for the country as a whole but will also likely supply other users in the region including Slovenia, Bosnia and Hercegovina, Hungary, Bulgaria and Romania. The Ruđer Medikol Cyclotron employs seven professionals and will annually produce radiopharmaceuticals sufficient to perform 15,000 diagnostic examinations.
The new cyclotron replaces an older model dating back to 1962 which was once one of the most modern such instruments in the world. It was primarily used for research but also for production of a wide spectrum of radioactive isotopes used in medical diagnostics in hospitals and health institutions in the wider Zagreb area and abroad.