The RBI Intensifies Collaboration with Leading French Scientific Institutions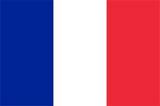 At the invitation of the Embassy of the Republic of France in the Republic of Croatia, delegates from the Ruđer Bošković Institute (RBI) led by the Director General, Dr. Danica Ramljak, will pay an official visit to France, organized by Embassy for the purpose of establishing and strengthening cooperation with top scientific institutions and universities of strategic interest to the RBI.
During this visit, Dr. Ramljak will hold several meetings with French scientific leaders, primarily with Dr. Catherine Brechignac, Ambassador Delegate for Science, Technology and Innovation of the Republic of France and the Permanent Secretary of the French Academy of Sciences; Dr. Hélène Duchêne, Director of Mobility and Attractiveness at the French Ministry of Foreign and European Affairs; Dr. Jacqueline Lecourtier, Chief Executive of the French National Research Agency; Dr. Etienne Ruellan, Director of the Technical Division of the National Center for Scientific Research (CNRS) and many others. 
The RBI delegation will visit the Curie Institute, where they will meet with the Director, Prof. Pierre Teillac, and also visit the Institute of Higher Education, the French Institute of Health and Medical Research, and the National Institute of the Sciences of the Universe, where they will have meetings with the leaders of these institutions.
During the past two years, Dr. Ramljak has worked intensively to develop stronger international cooperation through diplomacy. Via Croatian and foreign embassies, she has made key contacts with top scientific institutions in the world.
The President of the Republic of Croatia, Prof.  Ivo Josipović, recently met in Dubrovnik with Prof. Elias Zerhouni, former Director of the prestigious  National Institutes of Health (NIH), USA, Science Envoy of the President of the United States, Barack Obama, and  currently President of Global Research and Development of SANOFI in France, which employs over 13,000 scientists. Dr. Ramljak  also participated at that meeting and will meet personally with Prof. Zerhouni during this visit to discuss possibilities for cooperation at the national level.