The Ruđer Bošković Institute Receives 100,000 HRK for Cancer Research in Croatia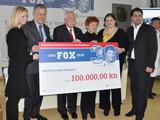 The goal of the Terry Fox Run was to collect funds for cancer research in Croatia and help those suffering from this disease. Half of the 200,000 HRK raised was presented to Dr. Maja Osmak of the Division of Molecular Biology, Ruđer Bošković Institute, for research on cytostatic cancer therapies, while the remaining half was presented to the Department of Pediatric Oncology, Pediatric Clinic, Rebro Clinical Hospital Center in Zagreb, which will be used to purchase equipment for treating children suffering from cancer.
The Director General of the RBI, Dr. Danica Ramljak, expressed gratitude for the donation and emphasized that basic research in the area of tumors and clinical oncology, especially in children as the most important part of the population, is of exceptional importance to the Republic of Croatia. "It is in our strategic interest to strengthen translational medicine in this area. We want the RBI, as a leading institution in the field of tumor research, to achieve stronger collaboration with the Rebro Clinical Hospital Center and other leading hospitals in Croatia." said Dr. Ramljak.
Dr. Osmak also expressed her gratitude. "This donation is intended for studying cytostatic cancer therapies and especially for purchasing the necessary chemicals and equipment that are of great importance for the continuation of basic tumor research in my laboratory. Better understanding of the mechanisms that modulate cell response to conventional cytostatic drugs could be of help in developing and optimizing new approaches to treating tumors. Dr. Osmak's research project is focused on identifying the molecular mechanisms involved in the susceptibility/resistance of cells to cytotoxic compounds, and investigating their regulation and interconnection. Besides contributing to basic knowledge, the research findings could have clinical application. Namely, identifying target molecules for the new smart drugs could improve the effectiveness of treatment, especially in tumor therapy.