Third Lecture in the Embassy Series Sponsored by the RBI Held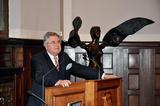 Ambassador Fischer stressed the importance of investing in science, which is essential for the welfare of a country and sustainable development. It is due to government investment in science by countries such as China, India and Brazil that they are increasingly mentioned as major new forces on the international scene. Ambassador Fischer also commented on relations between Croatia and Germany, which he described as "a very profound and emotional friendship" that is based upon three fundamental pillars – generations of Croatian workers in Germany, German tourists on the Adriatic coast; and political, economic and scientific cooperation.
Economic cooperation between the two countries is very good, with concrete examples of successful cooperation between Končar and Gredelj with Siemens, as well as the possible involvement of Croatian Railways in a major project of the Deutsche Bahn (German National Railways) in the Near East, said Ambassador Fischer. Furthermore, Ambassador Fischer noted that at this moment Germany lacks approximately 25,000 engineers and as many as 400,000 skilled workers. He expressed the hope that after Croatia's accession to the European Union, German companies will have an increased presence in Croatia, and that with them will come second and third generations of Croatian immigrants in Germany.
In the area of scientific cooperation, Ambassador Fischer stressed the role of the German Cultural Foundation, through which educational, cultural and scientific cooperation is financed at a total cost of 5 billion EUR annually. Of this sum, approximately 2 billion EUR go to financing academic cooperation through the exchange of students via the German Academic Exchange Service (DAAD) and scholarships from the Alexander von Humboldt Foundation. Furthermore, Ambassador Fischer mentioned 36 successful collaborations with Croatian educational institutions, over 4,000 Croatian students in Germany, 14 joint scientific projects with the Max Planck Institute, the fact that 40 Croatian scientists visited the Max Planck Institute last year, and 86 Humboldt scholarship recipients.
The Embassy Series sponsored by the RBI was launched in order to exchange ideas and improve cooperation between the Republic of Croatia and countries for whom science and education are the basis for the development of high technology as a driving force for the economic progress of modern societies.