Working Visit of RBI Delegation to Finland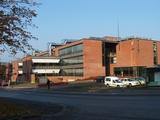 Director General of the Ruđer Bošković Institute Danica Ramljak, PhD, was a member of Croatian delegation led by Croatia's Prime Minister Jadranka Kosor on a working visit to the Finnish Research Centre for Nanotechnology Micronova in Helsinki.
Within the framework of scientific cooperation between the two countries, Finnish experts will participate in the international scientific evaluation of RBI, in the establishment of a "Cleanroom" laboratory for the use of RBI and Institute of Physics scientists. The "Cleanroom" laboratory is characterized by low levels of dust, microbes, aerosol particles and chemical vapours required for nanotechnology research.
In Otaniemi a nano-seminar entitled "Functional Materials Science Day III" was held with participation of RBI scientists Igor Đerđ, PhD, and Mile Ivanda, PhD. In collaboration with the University of Jyväskylä, RBI will co-organize the first Croatian-Finnish summer school in nanosciences from the 19th to the 23rd of September, 2010 in Dubrovnik. The summer school will host reknowned scientists from Croatia, Finland and collaborators from other countries. The summer school is aimed at young doctoral and post-doctoral researchers from Croatia and abroad. In addition, Danica Ramljak, PhD, held talks with the president of the Finnish Academy of Sciences Markku Mattila.
This visit to Finland was the result of a particularly successful collaboration with Croatia's ambassador to Finland Damir Kušen, PhD, who has intensively worked to promote economic and scientific cooperation between Croatia and Finland.