Young RBI Scientists Receive Annual Award in the Field of Natural Sciences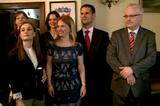 Among the recipients are two young scientists at the Ruđer Bošković Institute, Irena Dokli, Ph.D., of the Division of Organic Chemistry, and Nives Ivić, B.S., of the Division of Physical Chemistry. Dr. Dokli has published five scientific papers so far and competed with a study that describes the synthesis of N-protected azirdines with a detailed study of the mechanisms of the corresponding reactions. The paper was published in Chemistry – A European Journal (Impact Factor = 5.382). Nives Ivić has published three scientific papers to date and competed with a paper in which the biochemical mechanisms of aminoacyl-tRNA synthetase are investigated, particularly the truncated versions of the enzymes present in the genomes of various organisms. The paper was published in the prestigious journal PNAS (Impact Factor = 9.432), and was prepared in collaboration with the laboratory of Prof. Ivana Weygand Đurašević, Ph.D., of the Faculty of Science in Zagreb, and Marko Močibob, Ph.D., of the Faculty of Science, who also received an award for this paper.
The President of the Republic of Croatia, Prof. Ivo Josipović, congratulated the award recipients and expressed the hope that they will be a driving force for the future development of the Croatian society, for which, he pointed out, in addition to the undoubted individual potential of the laureates, significant investment is also required, without which Croatia cannot prosper. "There is no social progress without investment in science and spiritual values, as is too often forgotten in Croatia. On this depends whether we will be a prosperous European country tomorrow that, together with other countries of the Union, decides upon the fate of Europe," said President Josipović. The President emphasized that investment in science is not an expense but rather a way out of the crisis, about which too little is said in the Croatian media. "The bitter truth about our society is that creativity and intelligence receive too little media space, so that the presentation of these prestigious awards will receive less media coverage than murders, robberies or sports events," cautioned President Josipović.
The number of candidates in this competition is growing every year. In its 15-year tradition of rewarding the best, over a hundred young people have received this award. The fact that 90% of them have remained in the country and found their places in the academic community bodes well for a positive future of Croatia.