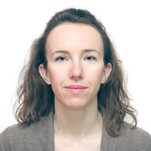 Anđela Horvat
PhD
Postdoctoral fellow
+385 1 456 0997

1752
1754

+385 1 456 1010

Krilo 5/402

Bijenička cesta 54
10000 Zagreb
CROATIA
Education
2008 - 2015, postgraduate studies of Molecular Biosciences at the University of Osijek, Croatia
2001 – 2006, Diploma in Molecular Biology at the Faculty of Science, University of Zagreb, Croatia (excellent grades)
1997-2001 High School in Split, Croatia (excellent grades)
Awards and Achievements
2008, Scholarship of the French Government for three-months long practical training in France
2001, 1st place in the State Competition in Biology
1999, 2nd place in the State Competition in Geography
1999, 2nd place in the State Competition in Latin
1997, 1st place in the State Competition in Geography
1998 – 2007, Scholarship of the town of Kastela (scholarship for best pupils or students with residence in Kastela)
Featured Publications
1. Bhardwaj V, Gokulan RC, Horvat A, Yermalitskaya L, Korolkova O, Washington KM, El-Rifai W, Dikalov SI, Zaika AI. (2017) Activation of NADPH oxidases leads to DNA damage in esophageal cells. Scientific Report 7(1):9956.
2. Horvat A, Zaika AI (2017). How does bacterial pathogen Helicobacter pylori control responses to cellular stress. Future Microbiology 12: 105-108.
3. Bhardwaj V, Horvat A, Korolkova O, Washington MK, El-Rifai W, Dikalov SI, Zaika AI. (2016). Prevention of DNA damage in Barrett's esophageal cells exposed to acidic bile salts. Carcinogenesis 37(12): 1161-1169.
4. Zorić A, Horvat A, Slade N (2013). Differential effects of diverse p53 isoforms on TAp73 transcriptional activity and apoptosis. Carcinogenesis 34: 522-529.
5. Zorić A, Horvat A, Balija M, Slade N (2012). The Arg72Pro Polymorphism of TP53 in Croatian Population. Croatica Chemica Acta 85: 239-243.
6. Slade N, Horvat A (2011). Targeting p73 – A Potential Approach in Cancer Treatment. Curr Pharm Des 17: 591-602.
7. Zorić A, Horvat A, Slade N (2010). Obitelj gena p53 – uloga u razvoju organizma i tumorigenezi. Medicina Fluminensis 46: 135-143. (in Croatian)
8. Slade N, Zorić A, Horvat A (2010). The p53/p63/p73 family of proteins – the focus on isoforms and mutants in cancer. Periodicum biologorum 112: 425-432.
Miscellaneous
Languages:
English (fluent)
Spanish (fluent)
Italian (fluent)
German (basic knowledge)