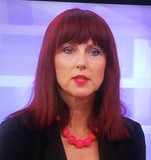 Marijeta Kralj
PhD
Senior scientist
+385 1 457 1235

1789
1773

Biologija 2/17

Bijenička 54, 10000 Zagreb
Education
1990 - B. Sc. in Molecular Biology, Faculty of Natural Sciences, University of Zagreb, Zagreb, Croatia
1994 - M. Sc. in Molecular and Cellular Biology, University of Zagreb, Zagreb, Croatia
2001 - Ph. D. in Natural Sciences, University of Zagreb, Zagreb, Croatia
Thesis: "p53 and p21WAF1/CIP1 mediated gene therapy of cancer"
Projects
2014 – 2018 Principal investigator "A multidisciplinary approach to discover selective drugs targeting cancer stem cells: The role of potassium transport - MultiCaST" Croatian Foundation of Science (HrZZ, 967.000 kn)
2013 – 2016 Work package leader (WP2 – Excange&Secondments) on FP7-REGPOT-2012-2013-1 "Enhancement of the Innovation Potential in SEE through new Molecular Solutions in Research and Development (InnoMol)", Coordinator Dr. Oliver Vugrek (total value € 4,738,978.00; WP value € 983,205)
2007 – 2013 Principal investigator of the scientific project financed from The Ministry of Science Education and Sports (MSES), Croatia: "The role of different cell death responses to DNA-damage treatment" (€≈80000)
Awards and Achievements
Croatian Society of Natural Sciences Award for the M.Sc. Thesis for the year 1994
Classes
Participation in several postgraduate courses at the School of Medicine, School of Natural Sciences; School of Pharmacy and Biochemistry, School of Veterinary Medicine, University of Zagreb, Zagreb
Participation in graduate course: Methods in molecular biology, School of Natural Sciences, University of Zagreb, Zagreb
Co-leader of two Courses "Functional genomics" and "p53 gene family" at doctoral study Molecular biosciences at Rudjer Boskovic Institute, University of Osijek and Dubrovnik (2007-)
Co-leader of the Course "Functional genomics in oncology" at doctoral Study "Cancer biology" at RBI, University of Split and Dubrovnik (2007-)
Featured Publications
1. Kralj M. Husnjak K, Körbler T, Pavelić J. Endogenous p21WAF1/CIP1 status predicts the response of human tumor cells to wild-type p53 and p21WAF1/CIP1 overexpression. Cancer Gene Ther, 10:457-467, 2003,
2. Kralj M, Pavelić J. p21WAF1/CIP1 is more effective than p53 in growth suppression of mouse renal carcinoma cell line Renca in vitro and in vivo. J Cancer Res Clin Oncol, 129:463-471, 2003.
3. Kralj M, Pavelic K. Medicine on a small scale. EMBO Reports, 4:1008-1012, 2003.
4. M. Marjanović, M. Kralj*, F. Supek, L. Frkanec, I. Piantanida, T. Šmuc, Lj. Tušek-Božić. Antitumor potential of crown ethers: structure activity relationships, cell cycle disturbances and cell death studies of a series of ionophores. J Med Chem (2007) 50:1007-1018
5. Hranjec, M; Kralj, M*; Piantanida, I; Sedić, M; Šuman, L; Pavelić, K; Karminski-Zamola, G*. Novel cyano- and amidino-substituted derivatives of styryl-2-benzimidazoles and benzimidazo[1, 2-a]quinolines. Synthesis, photochemical synthesis, DNA binding, and antitumor evaluation, part 3. J Med Chem. 50 (2007) 23: 5696.
6. Supek, F*; Kralj, M*; Marjanović, M; Šuman, L; Šmuc, T; Krizmanić, I; Žinić, B. Atypical cytostatic mechanism of N -1-sulfonylcytosine derivatives determined by in vitro screening and computational analysis. Invest New drugs. (2008) 26:97-110. * - equal contribution.
7. Kraljević Pavelić, S; Čačev, T; Kralj, M. A dual role of p21waf1/cip1 gene in apoptosis of HEp-2 treated with cisplatin or methotrexate. Cancer Gene Ther. (2008) 15:576-590.
8. Kralj, M; Tušek-Božić, Lj; Frkanec, L. Biomedical Potentials of Crown Ethers: Prospective Antitumor Agents. ChemMedChem. (2008) 3:1478-1492
9. Ester, K; Hranjec, M; Piantanida, I; Ćaleta, I; Ivana, J; Pavelić, K; Kralj, M*; Karminski-Zamola, G*. Novel Derivatives of Pyridyl-Benzo[b]thiophene-2-carboxamides and Benzo[b]thieno[2, 3- c]naphthyridin-2-ones: Minor Structural Variations Provoke Major Differences of Antitumor Action Mechanisms. J Med Chem. 52:2482-2492 (2009).
10. Kraljević Pavelić, S*; Marjanović, M*; Poznić, M; Kralj, M. (2009) Adenovirally-mediated p53 overexpression diversely influence the cell cycle of HEp-2 and CAL 27 cell lines upon cisplatin and methotrexate treatment. J Cancer Res Clin Oncol. 135:1747-1761. * - equal contribution.
11. Ester K, Supek F, Majsec K, Marjanović M, Lembo D, Donalisio M, Smuc T, Jarak I, Karminski-Zamola G, Kralj M. Putative mechanisms of antitumor activity of cyano-substituted heteroaryles in HeLa cells. Invest New Drugs; (2012) 30:450–467.
12. Uzelac, L; Škalamera, Đ; Mlinarić-Majerski, K; Basarić, N*; Kralj, M*. Selective photocytotoxicity of anthrols on cancer stem-like cells: the effect of quinone methides or reactive oxygen species. Eur J Med Chem, 137 (2017) 558-574.
Membership in professional associations / societies
Croatian society for Human Genetics
Croatian Society for Biochemistry and Molecular Biology
Croatian society for Theoretical and Mathematical Biology
European Association for Cancer Research
Croatioan Association for Cancer Research
Genomics and Proteomics in Oncology Board Member
Miscellaneous
2018 – today Assistant Director, RBI
2017 – 2021 Member of Scientific Council for Biomedical Sciences at National Council for Science, Higher Education and Technological Development
2016 – 2018 Vice Chairperson of Scientific Council, RBI
2016 – today Member of Scientific Council, RBI
2016 – today Chairperson of Scientific Council of biomedical sciences at RBI
2016 – today One of the RBI core team members of the Project Implementation Unit (PIU) for the O-ZIP structural project (Open Scientific Infrastructural Platforms for Innovative Applications in Economy and Society) (> 60 mil EUR)
2015 and 2016-2019 - Member of the reviewer committee for Croatian Science Foundation
2012 – today Member of the Steering Committee for Preparation of Structural projects at RBI
2010. – today Management board member of BioZyne Ltd., a spin-off company majority-owned by Ruđer Bošković Institute
2008 – today Head of Laboratory of experimental Therapy, RBI
2004 – 2008 Head of Laboratory for Functional Genomics, RBI
Editorial Board member of 3 international journals (Journal of Pharmaceutics (2012-2017), World Journal of Methodology (2011-), International Journal of Drug Design & Discovery (2009-); Guest editor of Periodicum biologorum 2004.
2012-2014 Secretary of Croatian society for Theoretical and Mathematical Biology
2008 - today Member of Genomics and proteomics in oncology committee
2004 Bioinformatics Task force leader at RBI