CIR was granted access to the Fugaku supercomputer, the second most powerful supercomputer in the world, for the project "Extreme scale eigensolvers for dense and sparse eigenproblems"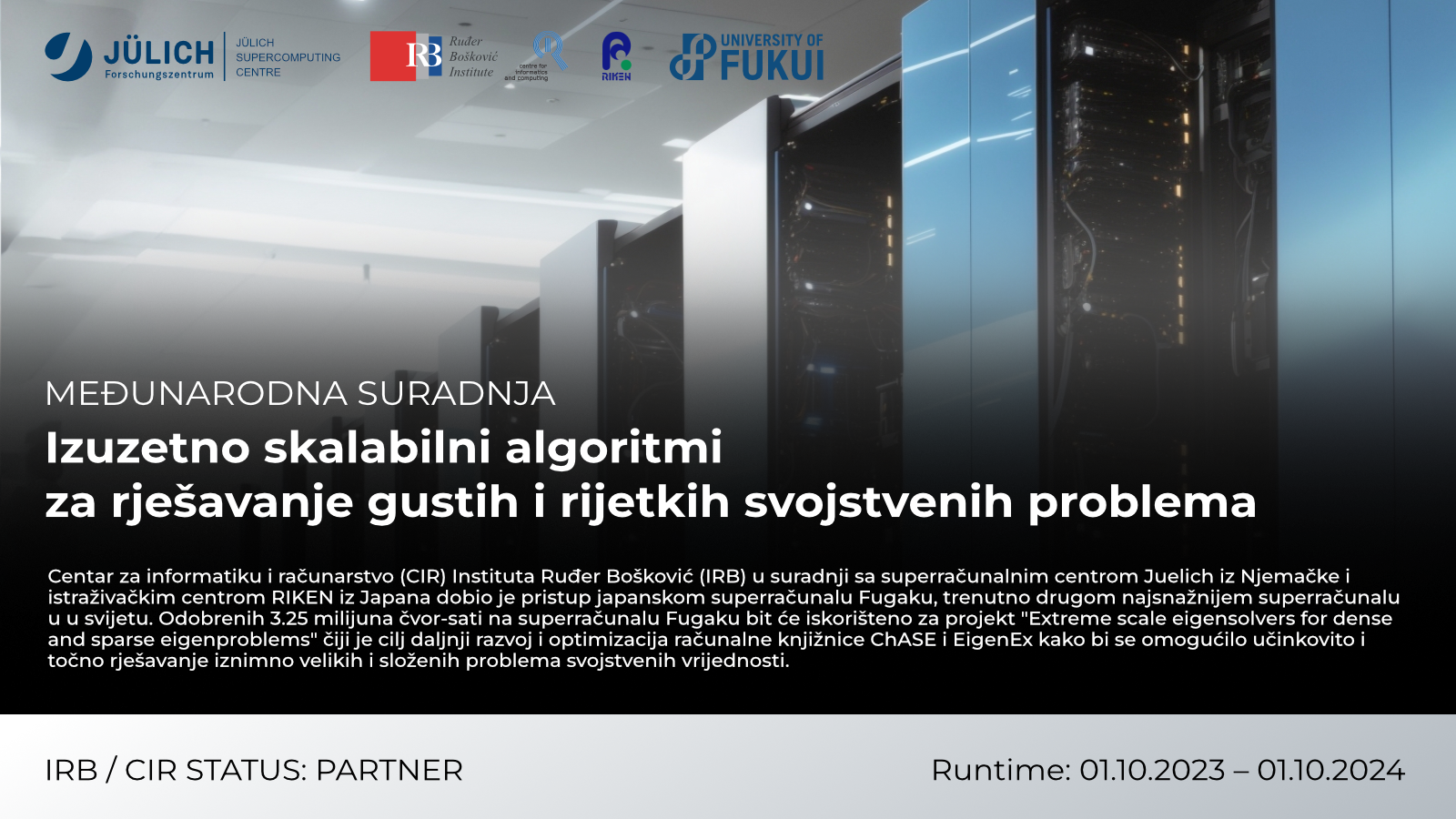 The main goal of this joint project is the further development and optimization of ChASE and EigenEx computer libraries in order to enable efficient and precise solving of extremely large and complex eigenvalue problems. Successful solving of such problems is possible only by using the most advanced and powerful computers of today (supercomputers), for which it is necessary to develop new algorithms and improve the existing ones in order to use their full computing power.
The libraries implement mathematical methods for solving dense eigenvalue problems, are adapted to work on computers with distributed memory and computer accelerators (GPU), and are used in many computer programs in the field of material physics and molecular dynamics.
For the purposes of the project, access to the Fugaku supercomputer was obtained, which is based on extremely efficient ARM processors, and opens new horizons for supercomputer performance.
"CIR researchers will work on the adaptation of the ChASE computer library for ARM processors (Fujitsu A64FX) and the analysis of the obtained performance on a series of large and dense eigenvalue problems from the field of ab initio molecular dynamics," explains the project coordinator at the IRB, Ph.D. Sc. Davor Davidović.
Ph.D. Abhiram Kaushik Badrinarayanan, Nenad Mijić, Ph.D. Davor Davidović
An important dimension of this partnership is the focus on solving extremely large and rare (eng. sparse) eigenvalue problems, where the dimensions of matrices exceed even 100 million rows and columns. This capability opens the door for innovation in molecular dynamics, materials physics and other scientific disciplines.
"We expect that the results of this research will enable solving major inherent problems on current and future supercomputers in the European Union and Japan, taking into account the trend of increasing presence of computer platforms based on ARM architecture," said Dr. Davidović.
Access to the Fugaku supercomputer is secured through a competitive public call for research projects, with 3.25 million node-hours of work allocated to the project over a one-year period starting October 1, 2023.
"This partnership will not only contribute to the wider scientific community, but will also shape the future of computing through innovations in linear algebra, as well as give new momentum to research in the field of supercomputing at the Institute," CIR researchers conclude.
The new research represents an extension of the already existing cooperation and research efforts carried out by the CIR through the HRZZ project "Scalable high-performance algorithms for future heterogeneous distributed computer systems", under the leadership of Ph.D. Davor Davidović.