CIR continues to promote the use of HPC at the national level as part of the "EUROCC2" project
Horizon2020 project - EUROCC2 (National Competence Centres in the framework of EuroHPC - Phase 2"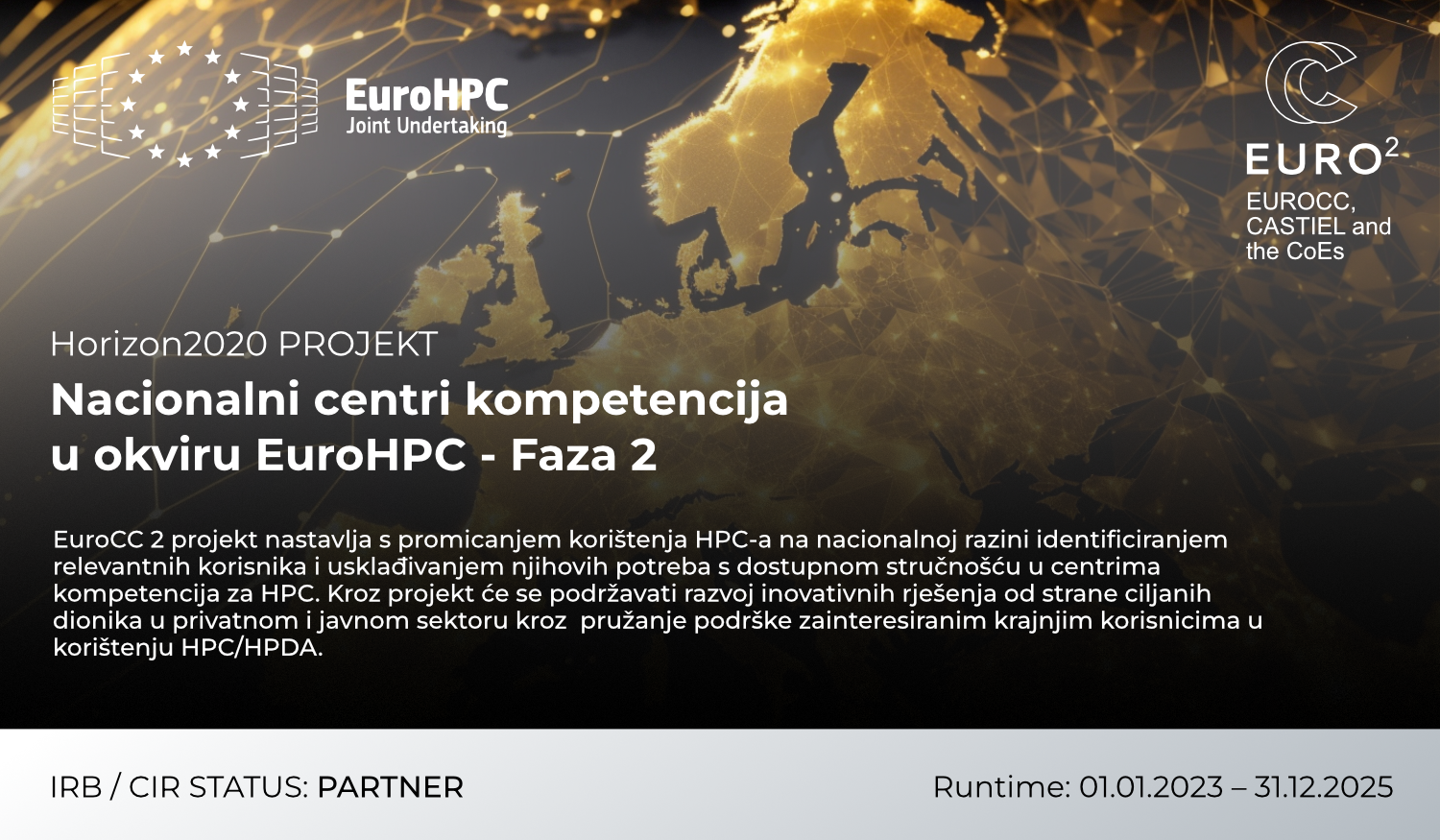 The mission of EuroCC 2 is to continue the establishment of a network of National Centres of Competence (NCC) in the most efficient way, while continuing to address the differences in the maturity of HPC deployment in Europe, for which improvement has already been noted. Therefore, in addition to high-level management to monitor progress in the NCCs' development, the main task of the overall activity is to support national centres in setting up their individual operational frameworks, while accessing and making the most of the experience and expertise currently available at national and European level. To support this, EuroCC 2 will work closely with CASTIEL 2, which is tailored to the needs of the EuroCC (2) NCCs and this time will also involve the Centres of Excellence.
The EuroCC activities—with 32 member and associated countries on board—is coordinated by the High-Performance Computing Center Stuttgart (HLRS). The project aims to elevate the participating countries to a common high level in the fields of HPC, HPDA and artificial intelligence (AI). The EuroCC project has established National Competence Centres (NCCs) in the participating countries, which will be responsible for surveying and documenting the core HPC, HPDA, and AI activities and competencies in their respective countries. Ultimately, the goal is to make HPC available to different users from science, industry, public administration, and society.
The national consortium consists of the University Computing Center of the University of Zagreb (Srce) in the role of national partner, and the Faculty of Electrical Engineering, Computing and Information Technologies of the University of Osijek (FERIT), the Faculty of Engineering of the University of Rijeka (RITEH), the Centre for informatics and computing (CIR) of the Ruđer Bošković Institute (IRB) and the Faculty of Electrical Engineering, Mechanical Engineering and Shipbuilding of the University of Split (FESB) who participate in the project in the role of related entities.
The Ministry of Science and Education, on behalf of the Republic of Croatia, undertook the obligation towards the EuroHPC JU and participates in its work. The state budget provides funds for the participation of Croatian institutions in the EuroCC 2 project, and 50% of the eligible costs of the EuroCC 2 project will be financed from the budget, while the remaining 50% of the eligible costs will be financed by the European Commission through the Digital Europe (DIGITAL) program. The total value of the project is EUR 61.9 million, and the value of the Croatian part of the project is EUR 1.3 million.
Project number:101101903
Program: EUDIGITAL
Value: 61.918.783,97 €