The first EuroHPC supercomputer Vega open for access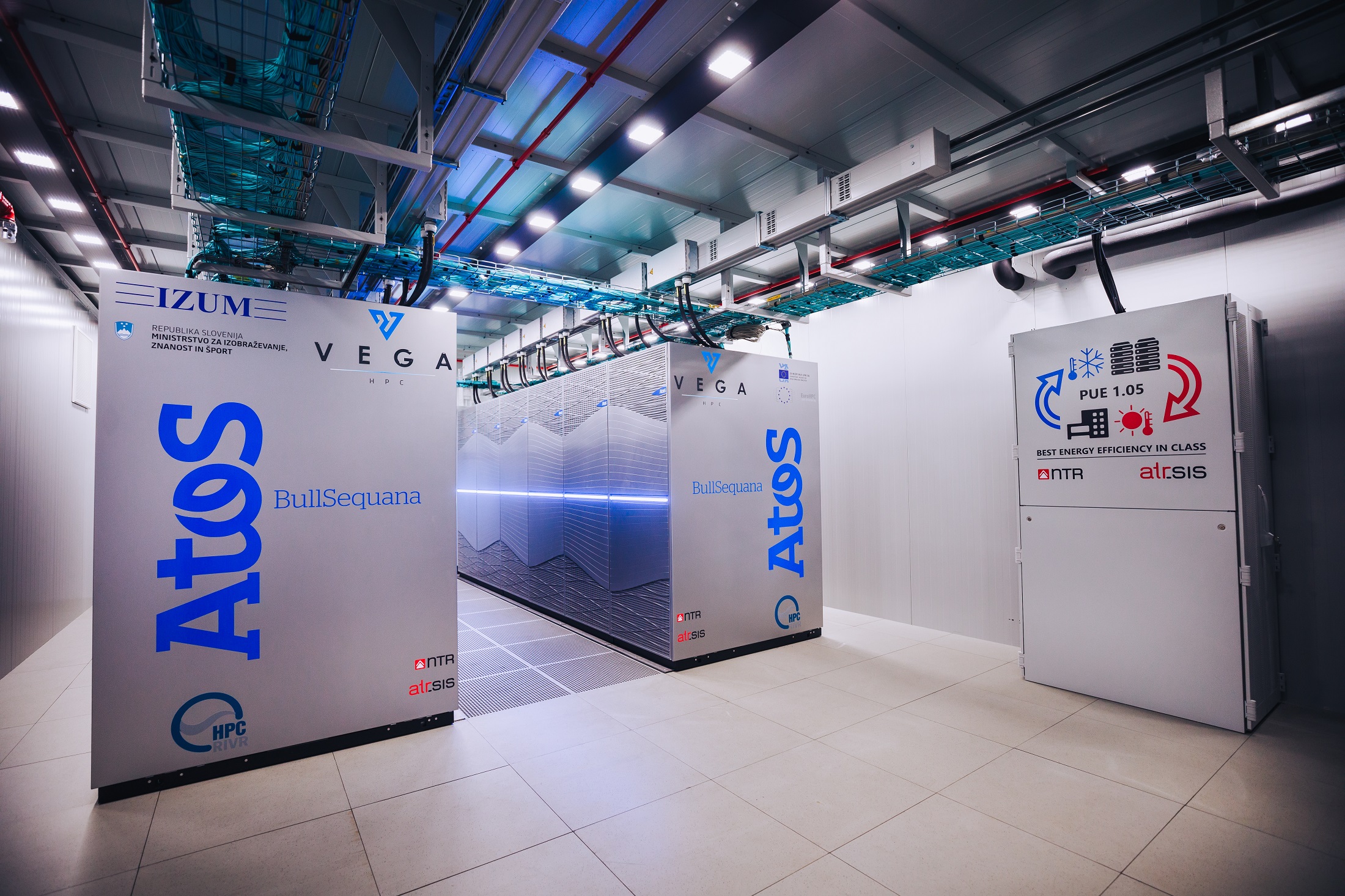 New resources for high-performance computing are available to the Croatian academic community: a call has been opened for access to the first EuroHPC supercomputer Vega.
The Vega supercomputer is partly funded by the High Performance European Computing Joint Undertaking (EuroHPC JU) and located at the Institute of Information Sciences (IZUM) in Maribor, Slovenia.
Vega achieves a performance of 6.8 petaflops, making it the 14th most powerful supercomputer in the world, and is the first in a series of five-scale and pre-scale computers developed as part of a European HPC infrastructure development project.
System features:
    960 computer nodes with 1920 AMD EPYC 7H12 processors;
    60 graphics nodes with a total of 240 NVIDIA A100 graphics cards;
    80% of computer nodes have 256 GB of RAM - 20% of computer nodes have 512 GB of RAM;
    Storage system consisting of NVMe Luster capacity 1PB and Ceph system capacity 23PB;
    NVMe storage system throughput of 400 GB / s;
    High capacity (Ceph) system with a bandwidth of 200 GB / s.
The call is continuously open, with access to resources a maximum of two weeks after the end of the application period.
Applications are currently possible for two forms of access:
    Development approach: intended for projects that develop their own code.
    Access is possible to the academic and industrial community, but it is also intended for centers of excellence and centers of competence.
    The maximum duration of access is one year, with a possible extension (up to twice, for a maximum duration of access of three years).
    Performance measurement approach: intended for testing the desired applications and their comparison and evaluation in relation to the resources available so far.
    Access is granted for a maximum period of three months.
Access is also possible to researchers from privately funded institutions, meeting the following criteria:
    The company's headquarters or most of the company's R&D capacity must be located in a EuroHPC JU Member State or in a Horizon 2020 Member State;
    The project manager must have an active employment contract for at least three months after the end of the assigned access period;
    Resources are used strictly for research and development purposes.
Application for access is possible via the PRACE Peer-Review application by applying to the "Preparatory access call" and selecting one of two types of proposals: A - Code scalability testing or B - Code development and optimization by applicant (without PRACE support).
You can find more about the call and details about the available resources on the call pages.