NATO highlights Croatia's contribution to security through civil science and technology
The participation of RBI scientists in the NATO Science for Peace and Security (SPS) programme has been ongoing for two decades.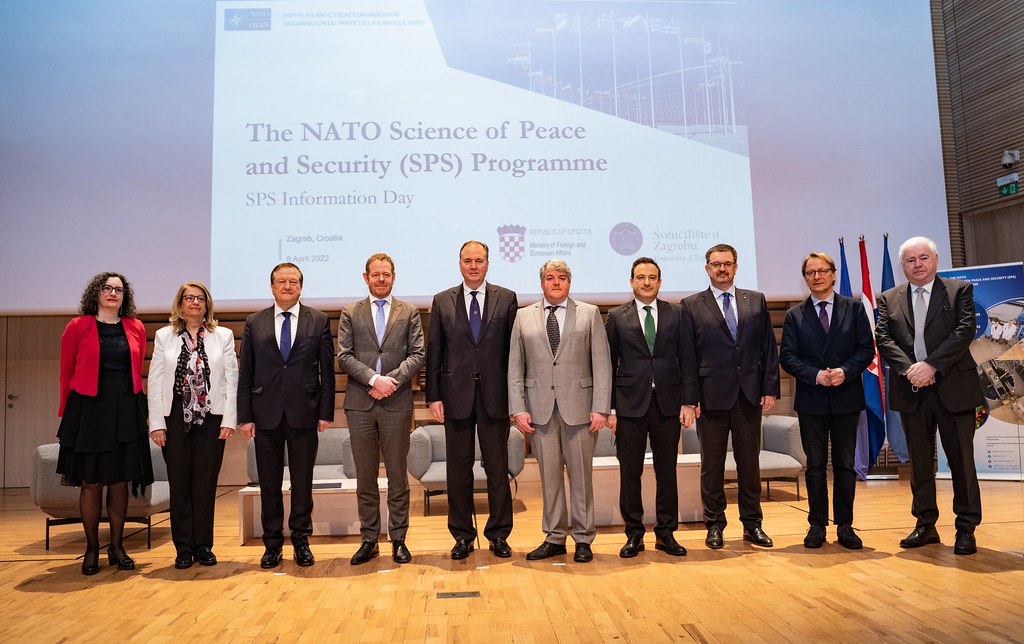 An information day highlighting Croatia's important achievements in the NATO Science for Peace and Security (SPS) programme was held in Zagreb on Friday (April 8, 2022). Scientists, experts, and government representatives met to take stock of the results of civil scientific cooperation between Croatia, NATO allies, and partner countries. They also exchanged views on the prospects for possible new activities in the field of security-related science and technological innovation, which are in line with Croatia's research priorities.
Over 60 participants attended the event, which was jointly organised by the NATO Science for Peace and Security Programme, the Croatian Ministry of Foreign and European Affairs, the Permanent Delegation of Croatia to NATO, and the University of Zagreb.
In the first part of the programme, the participants were welcomed by the Rector of the University of Zagreb, Prof Damir Boras, the State Secretary at the Ministry of Foreign and European Affairs of the Republic of Croatia Frano Matušić, NATO Assistant Secretary General for Emerging Security Challenges David van Weel and the Director General of the Ruđer Bošković Institute (RBI) Dr David Matthew Smith.
At the official opening, NATO Assistant Secretary General for Emerging Security Challenges, David van Weel, stated, "The Science for Peace and Security Programme has been a central part of NATO 's science and technology ecosystem for over 60 years. In that time, it has helped demonstrate NATO 's commitment to scientific and technological progress." Representing the host country, State Secretary Frano Matušić highlighted Croatia's participation in 78 SPS projects in collaboration with allies and partners from around the world. He also stressed the importance of this information day for strengthening and expanding future cooperation. On the sidelines of the event, Croatian research teams presented various prototypes developed with the support of the NATO Science for Peace and Security programme. They demonstrated their ability to address a wide range of current security challenges and provide solutions with tangible results. These include initiatives such as the development and deployment of the Next-generation Incident Command System (NICS), a web-based command and control software that facilitates collaboration between first responders to natural and man-made disasters.
Speaking at NATO SPS Info, RBI Director General Dr David M Smith stated that the involvement of RBI scientists in the NATO Science for Peace and Security (SPS) programme has been ongoing for two decades.
Under the NATO SPS programme, RBI has so far carried out a total of 8 projects worth over 1.1 million Euros. At the moment our scientists are actively involved in 2 NATO SPS projects worth 150 thousand Euros: "BioPhyMeTRE: Novel biological and physical methods for triage in radiological and nuclear (R/N) emergencies" and "Enhancing Security at Borders and Ports (E-Sicure 2)".
The BioPhyMeTRe project brings together experts from three countries in the field of retrospective dosimetry to work together on the development and improvement of complementary biological and physical methods of retrospective dosimetry.
Radiological incidents, which include terrorist attacks, whether involving radioactive or nuclear material, are in fact a growing threat to security. Individual assessment of the radiation dose received by victims is extremely important for efficient and rapid medical treatment of victims and for optimization of medical capacity in terms of personnel, equipment and space. The task of the Croatian team is to improve and develop a rapid dose assessment by a physical method using materials from the victim's environment or his personal items such as handkerchiefs, cigarettes, snacks or textiles.
The E-Sicure 2 project is a second project under the NATO SPS, awarded to Dr. Ivana Capan and her team from the RBI Laboratory for Semiconductor thanks to the excellent research results of the first project. The budget for the E-Sicure 2 project is 356,800 euros, and RBI received the highest share of the budget, a whopping 35 percent.
'' Under an earlier E-Sicure 1 project, a research team led by Dr Capan developed a prototype silicon carbide-based neutron detector to detect hazardous nuclear cargo in seaports. The prototype proved particularly effective for thermal or slow neutrons. Under the new project, this sophisticated detector for detecting hazardous cargo and materials will be upgraded to also be sensitive to low-energy gamma rays, alpha radiation, fast and slow neutrons, and X-rays, increasing its efficiency and broadening its range of applications,'' explains Dr Smith.
The two projects, E-Sicure 1 and E-Sicure 2, are projects in which RBI is the project leader.
Research and development activities supported by the NATO Science for Peace and Security programme have helped find innovative solutions to other security-related challenges, such as detecting land mines and explosive threats, as well as technological solutions to improve security at border crossings, airports and seaports. In addition, events such as the annual Zagreb Security Forum have fostered the exchange of experience and expertise on hybrid challenges and resilience among a network of experts and officials in Eastern and Southeastern Europe.
Through interactions with their peers from other NATO Allies and partner countries, Croatian scientists and experts have taken part in many activities within the framework of NATO's Science for Peace and Security Programme, on such security-related topics as counter-Terrorism, cyber defence, defence against chemical, biological, radiological and nuclear agents, environmental security, advanced technology, mine and unexploded ordnance clearance and detection, and hybrid challenges.
With the recent launch of a new call for applications, NATO's Science for Peace and Security Programme has opened the opportunity for scientists in Croatia, as well as other NATO and partner countries to develop proposals for innovative security-related scientific activities. More information about the call can be found on the SPS website.
voditelj laboratorija Viši znanstveni suradnik
Internal phone number:
1327
1774
Head of laboratory
Internal phone number:
1312
1272