Patria to Invest in The International Scientific Project at the RBI
Project Will Enhance Top Biomedical Research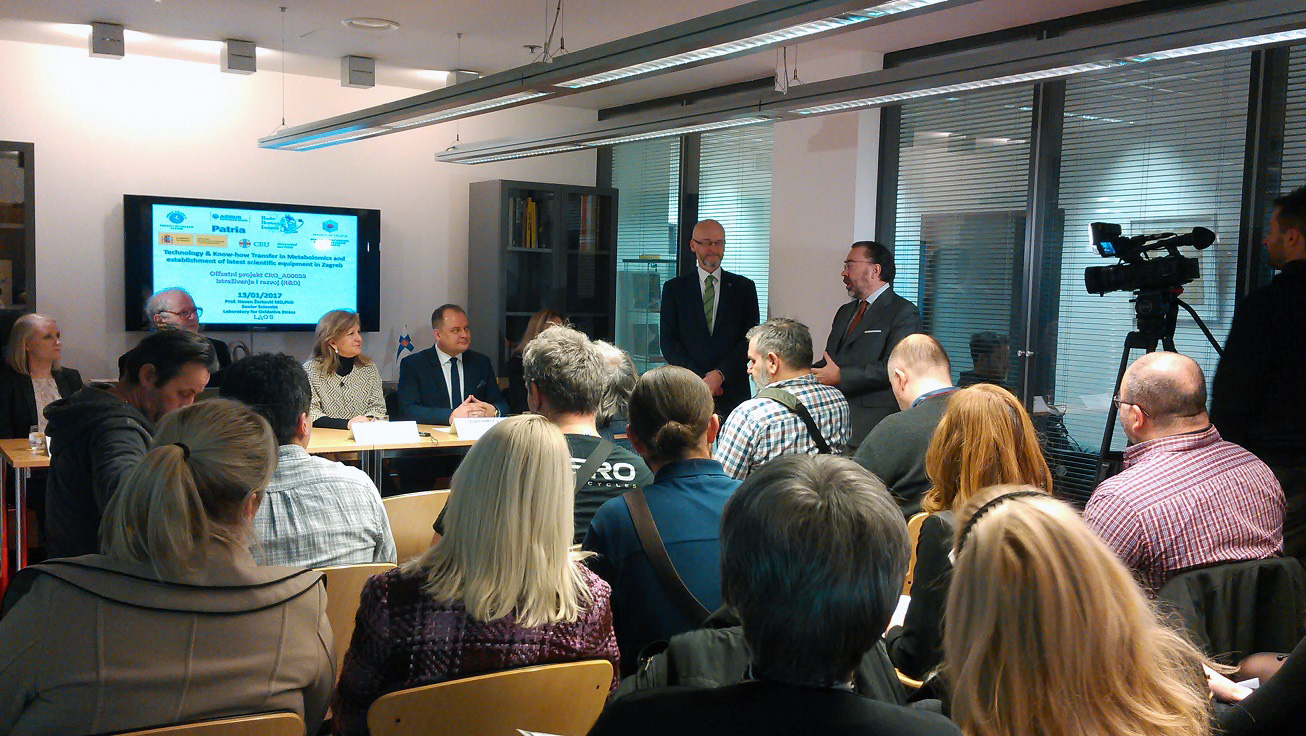 Patria, a defense, security and aviation sector company from Finland, will, in agreement with the Croatian Ministry of Economy, finance an offset project that will enable Rudjer Boskovic Institute to acquire knowledge and technology in a new research field - metabolomics. The project includes training of Croatian researchers at the prestigious University of San Pablo CEU in Madrid. Scientists will work together in applying metabolomics in the study of breast cancer and prostate cancer, as well as opening novel approaches to the post-traumatic stress disorder (PTSD). Beside Patria that will finance the project, the experts from Airbus will support the project realization acting as consultants.
Through this project, the leading Croatian research institute will significantly modernise research capacity and by contribution to the knowledge-based society through innovative, socially-oriented biomedical research increase its competitiveness and ensure high-quality jobs.
The project complies with the strategic objectives of the Croatian Government in the part related to research and development. The project involves knowledge and technology transfer through training and instruction of researchers in new scientific skills, followed by the establishment of a new laboratory for metabolomics in the Rudjer Boskovic Institute. The newly equipped laboratory will be used for commercial and scientific research, through the provision of services to industry and other users, in the field of metabolomics, biomedicine and analytical chemistry. The new metabolomics unit will associated to the worldwide known Laboratory for Oxidative Stress (LabOS) at the Ruđer Bošković Institute in Zagreb. 
Researchers from the RBI involved in this strategic project will, together with their partners, give their best to make this unique project successful for the benefit of all, hoping it will become the benchmark for future international and industrial R&D projects in Croatia", says  Professor Neven Zarkovic, MD,PhD, Senior Scientist, LabOS, Rudjer Boskovic Institute.
New opportunities
At the national level, the metabolomics unit in Zagreb will open new opportunities for research centers, hospitals, army and R&D oriented industry, particularly in the development and acceptance of new medical products.
Metabolomics is a new research field, with genomics and proteomics. It can give an overview of the metabolic state of the overall biochemical events associated with cell or biological system, without a priori hypothesis. Metabolomics is widely used in the identification of new biomarkers, which are important in the process of discovery of new drugs and diagnostic tools, which is more and more widespread in personalized medicine. In addition metabolomics can be used to in environmental toxicology screening, nutritional studies, animal health and agriculture, all of which turns this branch of the science of life into a perfect platform with many applications.
To achieve these objectives Patria counted on an internationally renowned Centre for Metabolomics, CEMBIO, located at San Pablo CEU University in Madrid. Currently scarce bilateral research projects are being carried out between Spain and Croatia; therefore, this would mean an additional opportunity for the current proposal developing new technology networks.
Professor Coral Barbas, Head of the Centre for Metabolomics and Bioanalysis (CEMBIO), University San Pablo CEU says: "We are really grateful to Patria for this opportunity, because the knowledge transfer obtained through this project, the well-known expertise of LabOS in the fields of oxidative stress and immunochemistry, as well as other Croatian researchers in different clinical fields give the perfect background for a successful result that will benefit everybody."
 "Within the framework of Patria's offset obligation in Croatia, we are very proud to invest in this kind of offset project which will bring long-lasting significant scientific and social benefits to the whole Republic of Croatia", says Juha Simola, Senior Vice President, Sales & Marketing, Patria.
N
Ž
Head of laboratory
Internal phone number:
1607
1790