Analasys of Bioinformatic Data trough Scientific Cloud Services
I Bioinformatics Workshop in Galaxy Training Network Bioinformatics workshop in Galaxy Training Network, organized by Centre for Informatics and Computing, RBI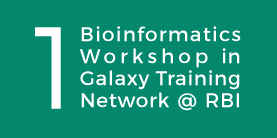 In the period from 10 to 11 July 2014 the first workshop entitled "eScience approach to creating knowledge from data" organized by the Centre for Informatics and Computing, was held successfully. The workshop was divided into two parts. The first part of the workshop consisted of an introductory lecture and theoretical part of the presentation, held on 06.10.2014. in the Blue room of the Institute, which was attended by over 30 people. The lecture presented two systems, bioinformatics tool Galaxy and support system using a computer Cloud - application Cloudman. At the workshop, participants had the opportunity to see how efficiently can improve and facilitate the processing of bioinformatic data using the Galaxy applications within a computing cloud.
The second part of the workshop was held in the new computer room on the Institute thanks to the initiative of the ITC and the donation company Proaxis Ltd. In the new computer classroom, 16 participants acquired the necessary practical knowledge and skills necessary to use the Galaxy software package as a Cloud service through Cloudman applications. Also, participants had the opportunity to try out for yourself the features and benefits Galaxy software package on the cloud thanks to Amazon, which ceded a portion of its cloud resources for this workshop. At a closing ceremony director shared the participants certificates of successful completion of the workshop.
At the end of the workshop survey was conducted among participants who evaluated the organization and content of the workshop and the functionality of computer labs with good marks.