Simultaneous 3D printing of multiple objects on industrial scale
CloudiFacturing project - experiment 3D-CPAM
Coordinated by Centre for informatics and computing @ RBI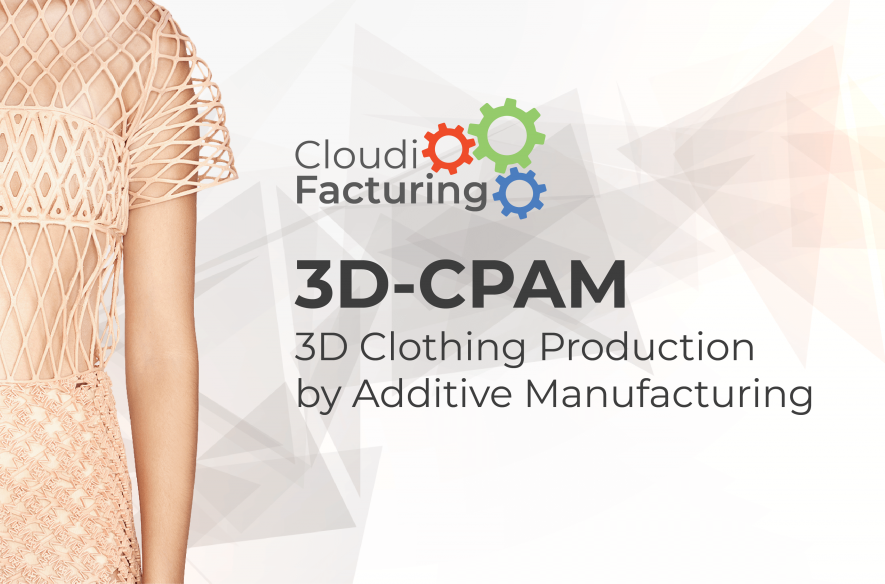 CloudiFacturing is a project funded by European Union's Horizon2020 research and innovation programme with a mission to optimize production processes and producibility using Cloud/HPC (high performance computing) based modeling and simulation. By leveraging online factory data and advanced data analytics the project will contribute to the competitiveness and resource efficiency of manufacturing SMEs,and  will ultimately foster the vision of Factories 4.0 and the circular economy.
3D-CPAM (3D Clothing Production by Additive Manufacturing) is an experiment of the CloudiFacturing project that started in February 2020 and is coordinated by Centre for informatics and computing at Ruđer Bošković Institute. The Experiment focuses on optimizing the rendering and 3D printing process programs. The ultimate goal is to reduce both the time-to-solution, production and the cost of the manufacturing process of 3D printed garments by utilizing a large-scale Industrial 3D Digital Printing Environment developed by the SME partner Mikrotvornica.
As a result of ten months work, a robust modular machine - Modax3D printer developed by Mikrotvornica, and in collaboration with Ruđer Bošković Institute  was upgraded with a second printhead and gantry. The improved 3D printer enables production of tough, accurate, and complex industrial parts using FDM/FFF (Fused Deposition Modelling / Fused Filament Fabrication) 3D printing technology. This upgrade made the printing process near 2x faster by printing two models simultaneously.
The optimized rendering and printing drive process programs are currently being used for the 3D printing of customer -tailored and personalized garments designs by project partner Danit Peleg, a Fashion Designer well known for her 3D printed fashion work.
Danit, who is a TED speaker, has been featured in world-renowned publications such as Vogue, The New York Times, and Women's Wear Daily and in 2018 was recognized as one of Europe's Top Women in Tech by Forbes. Danit joined as an End User in the 3D-CPAM experiment to collaborate on reducing both the time-to-solution and the cost of the manufacturing process of her 3D printed garment collection and forming this new advanced business case.