The RBI scientists have published a new article in JACS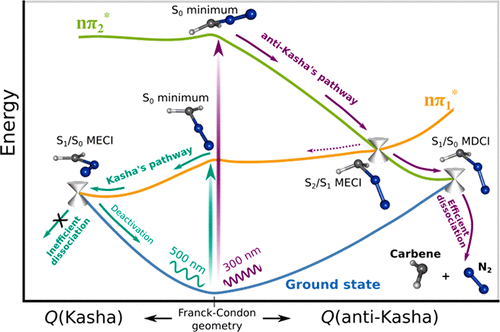 A synergy of experimental data and computer simulations completely unraveled a photochemical reaction mechanism of nitrogen elimination from diazoalkanes. Although it is a fundamental reaction in organic chemistry of general importance, details on its mechanism have to date not been understood. Results published in one of the leading journals in chemistry, Journal of the American Chemical Society (IF = 14.695), are particularly important since they change paradigms in the knowledge of photochemical reactions.
Understanding mechanisms of chemical reactions is a powerful tool, giving scientists the ability to predict the outcome of yet unknown reactions with confidence.
The exploration of the reaction mechanism can be exploited in clever applications within a variety of fields.
Although diazoalkanes have proven to be versatile building blocks for the photochemical formation of reactive intermediates - carbenes, a mechanistic investigation into how the process takes place have hitherto remained undisclosed.
Interpreting the excited-state transformations of diazoalkanes opens up the selective control of these reactions as well as new chemistry to researchers.
Recent investigation by the team of the RBI scientists has accomplished just this with an approach that synergistically combined experiments with computer simulations.
They demonstrated that the photochemical elimination of nitrogen and formation of carbenes from all investigated diazomethane derivatives occurs by the same mechanism.
They also showed that the excitation to a higher-lying excited singlet state is necessary for the effective and efficient photoelimination of nitrogen, changing the well-accepted paradigms in organic photochemistry.
The mechanism by which this process takes place has allowed for deeper understanding of the specific roles of higher-energy excited states, and may provide fundamental knowledge in designing a broad range of photochemical processes relevant in a variety of biological applications.
The research on this project was funded through Croatian Science foundation grants (HRZZ IP-2014-09-6312 and IP-2016-06-1142).
N
D
Dr. , Senior scientist with tenure (in the permanent title)
Internal phone number:
1638