Laboratory for Aquaculture and Pathology of Aquatic Organisms
Laboratory was founded in 1980. g., the activity is directed to scientific research in the fields of aquaculture and diseases of aquatic organisms.
left
right
Activities of the Laboratory:
research of diseases of aquatic organisms
graduate and postgraduate education
application and performing services in the field of aquaculture
quality of final products
Education:
Graduate teaching:
Diseasesof aquatic organisms
Postgraduate teaching
Methods and techniques of marine research bydiving
Aquaculture-mariculture
Salmoniculture
Nutrition of fish, crustaceans and shellfish
Anatomy, physiology andembryology of fish
Hydrobiology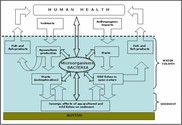 The majority of studies in aquatic microbial ecology focus on the separate segments of aquatic ecosystem. Our project proposes comprehensive study of bacterial community within water column, sediment and fish as indicator of the aquatic environmental health status and its potential implications to human health.
more »