Croatia to Host Prestigious Fusion Symposium - SOFT 2020
SOFT brings together companies from all around the world providing them with an extraordinary opportunity to apply for ITER and DONES tenders worth several million euros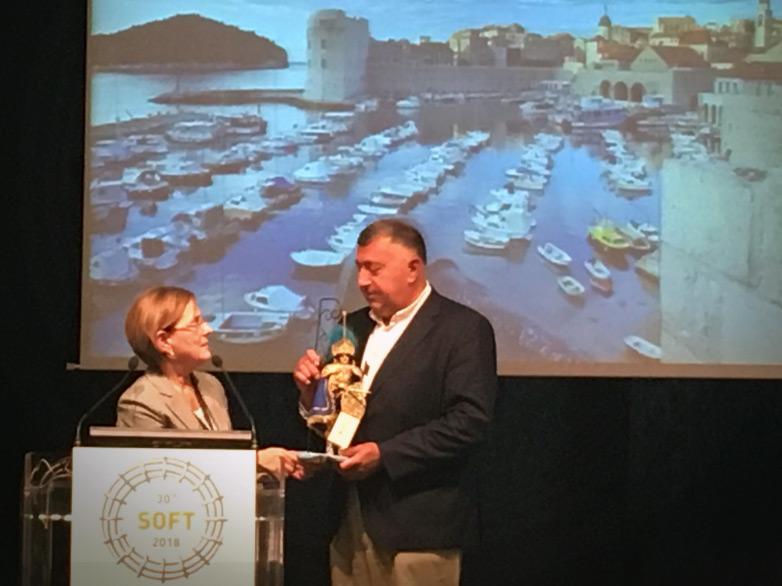 At the 30th Symposium on Fusion Technology (SOFT 2018), the most prestigious biennial event in this field in Europe, the Republic of Croatia was elected as a host of the next Symposium in 2020. The election of Croatia, and Dubrovnik as the SOFT 2020 venue, is a great acknowledgment to Croatian scientists engaged in fusion energy research in the Croatian Fusion Research Unit (CRU) based at the Ruđer Bošković Institute (IRB).
The ancient theatre of Taormina, in northeast Sicily provided a magnificent setting for quite a different event - the opening of the 30th Symposium of Fusion Technology (SOFT), the largest fusion technology conference in Europe.
This year's gathering was organized by the Italian National Agency for New Technologies, Energy and Sustainable Economic Development, ENEA. With close to 1,000 participants and more than 1,000 contributions was a record-setting year in the history of the symposium. For conference chair Aldo Pizzuto from ENEA, these numbers, along with the ever-increasing participation of young researchers and the consolidated representation of industry representatives, illustrate the importance of SOFT as a platform for exchange on recent progress in fusion research and technology.
"The news on Croatia hosting SOFT 2020 was a real thrill at this year's symposium, since it has not yet happened that only five years after its accession to the European Union, a member country gets to host such an important event. This confirms the strong position of Croatian scientists within European fusion research.
We are now responsible for the success of SOFT 2020 in Dubrovnik, and for promoting fusion research in Croatia and the EU at the global level." - explains Dr. Tonči Tadić, Head of RBI activities in the EUROfusion project and coordinator of the Croatian Fusion Research Unit (CRU), and also a representative of Croatia on the Fusion for Energy (F4E) European Agency Board.
Croatia Becomes the Fusion Research World Centre
The news could not have come at a better time for Croatia, especially while Croatia together with Spain awaits for a call for the construction of a linear accelerator DONES, worth 550 million euros, to be issued. "The Fusion program in Croatia and our engagement in relation to DONES have been positively evaluated by the European Commission, and this is further confirmed by the Commission's strong support to Croatia's acquisition of SOFT2020." - explains Dr. Tadic.
Moreover, the hosting over this prestigious symposium reaches Croatia in the year when Croatia assumes the presidency over the European Union for a six months mandate, which means that fusion research and development of high technology for ITER and DONES will be focal points during Croatian mandate in 2020.
That one week in September 2020, Dubrovnik will indeed become the centre of the fusion world. Along with the leading people of the fusion consortium, SOFT2020 will bring together leading people from the European Commission, key experts and businessmen from all around the world (EU, China, Japan, South Korea, India, Russia and the USA).
Several Hundred Million Euros worth Tenders Available to Croatian Companies
"I need to point out that SOFT is a unique event in the field of fusion research worldwide. Moreover, it is not exclusively targeted at scientists and scientific research institutions, but SOFT brings together companies from all around the world providing them with an extraordinary opportunity to apply for ITER and DONES tenders worth several million euros.'' - explains Dr. Tadić.
Thanks to the presence of Croatian scientific community of world-class excellence that has invested over time in various technologies and has activated effective synergies with the industrial system, several of the Croatian companies such as INETEC - Institute for Nuclear Technology, Monting Power Systems and Primakon, have already successfully applied for the ITER tenders, and other 20 companies registered under the Croatian Employers' Association could get their shares as well.
At SOFT 2018, the representatives of the Spanish Confederation of Employers' Organizations reiterated their willingness to cooperate with the Croatian Employers' Association. "This is in accordance with the Memorandum of Understanding on cooperation on fusion research signed between Croatian Ministry of Science and Education and Spain's Ministry of Science. This Memo further formalises cooperation between two countries' leading science and research institutes - Croatia's Ruđer Bošković Institute (RBI) and Spain's CIEMAT, which are both taking part in designing the DEMO-Oriented Neutron Source (DONES).
DONES is a system which will help scientists test materials in an extreme environment of neutron irradiation, similar to that of a demonstration fusion reactor (DEMO). Croatia's IRB institute will work on radiation protection systems for scientists operating the machine, and will develop its decommissioning strategy.
T
T
Senior research associate
Internal phone number:
1542
1412