9. IEEE međunarodna konferencija - Znanost o podacima i napredna analitika
13. - 16. Listopada 2022., Shenzhen, China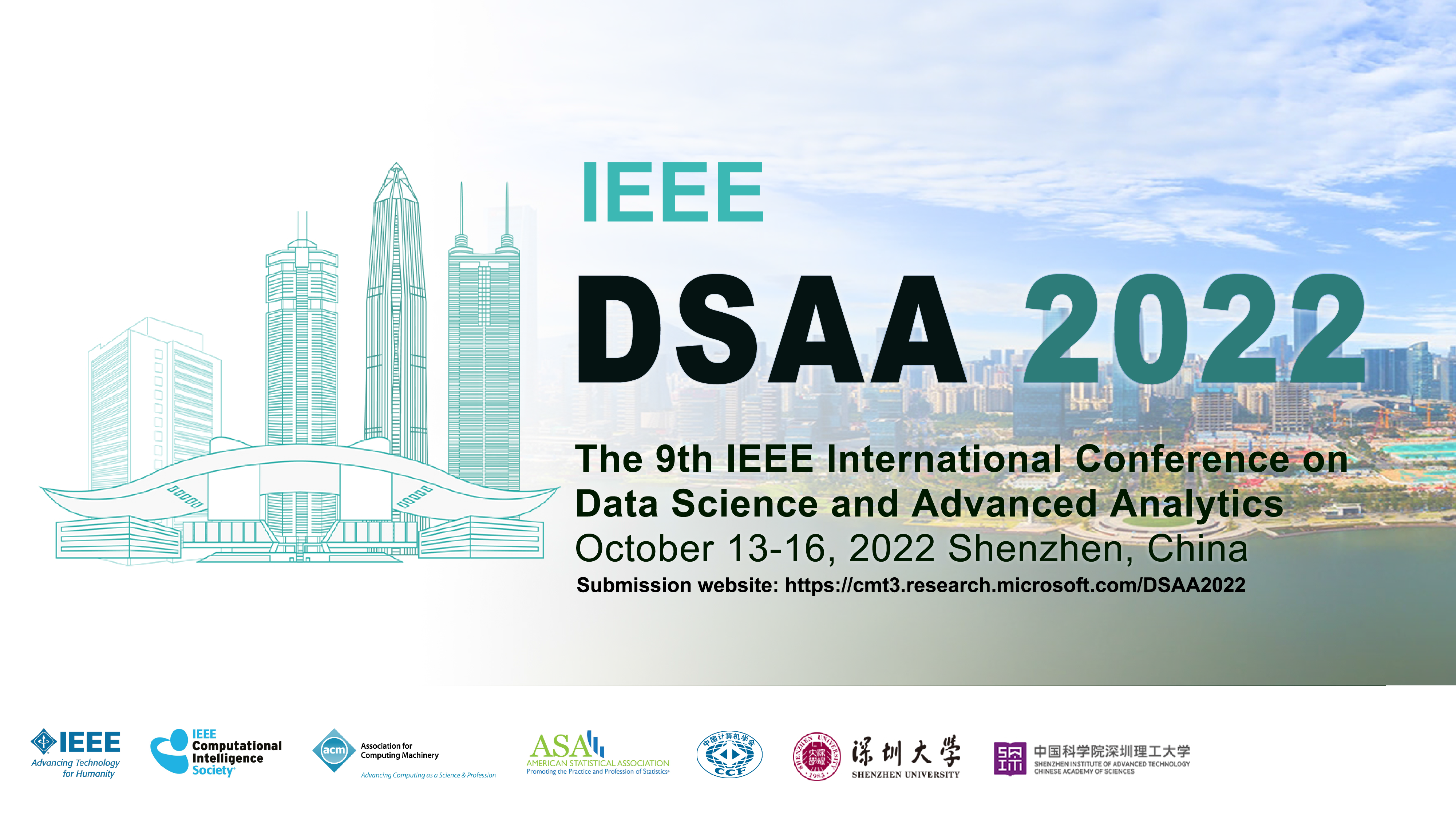 The 9th IEEE International Conference on Data Science and Advanced Analytics (DSAA) features its strong interdisciplinary synergy among statistics (via ASA), computing and information/intelligence sciences (via IEEE and ACM), and cross-domain interactions between academia and business for data science and analytics. DSAA sets up a high standard for its organizing committee, keynote speeches, submissions to main conference and special sessions, and a competitive rate for paper acceptance. DSAA has been widely recognized as a dedicated flagship annual meeting in data science and analytics by Google Metrics, Australian CORE ranking, and China Computer Foundation.
DSAA'2022 provides a premier forum that brings together researchers, industry and government practitioners, as well as developers and users of big data solutions for the exchange of the latest theoretical advances in Data Science and the best practice for a wide range of applications.
DSAA'2022 is a dual-track conference consisting of a Research Track and an Application Track. DSAA'2022 invites submissions of papers reporting innovative research on all aspects of data science and advanced analytics, as well as application-oriented papers that make original, significant, and reproducible contributions to improving the practice of data science and analytics in real-world scenarios.
DSAA'2022 will also feature three Journal Tracks, a peer-reviewed Student Poster session, and an Industry Poster session, the purposes of which are to showcase the recent and early-stage research developments on topics that are of interest to students and industry/government practitioners in data science and analytics. Authors are encouraged to read the track descriptions carefully and to choose an appropriate track for their submissions. An Industry Track will form a forum for industry and government scientists to debate on the latest progress, opportunities, and directions
________________________________________________________________________
Organizing Committee
General Chairs: Joshua Zhexue Huang (Shenzhen University), Gary Yen (Oklahoma State University), Karolj Skala (Ruđer Bošković Institute)
Research Track
This track solicits the latest, original and significant contributions related to foundations and theoretical developments of Data Science and Advanced Analytics. Topics of interest include but are not limited to:
    Data science foundations and theories
    Mathematics and statistics for data science and analytics
    Understanding data characteristics and complexities
    Machine/deep/statistical learning-based algorithms
    Advanced analytics and knowledge discovery methods
    Computer vision and pattern recognition
    Optimization theories and methods
    Large-scale databases, big-data processing, distributed processing, and ethical analytics
    Model explainability and provenance
    Theories and methods for evaluation, explanation, visualization, and presentation
    Survey and review
Application Track
This track solicits high-quality, original papers presenting applications and best practices of Data Science and Advanced Analytics across various disciplines and domains, including business, government, health and medical science, physical sciences, and social sciences. Submissions are expected to address problems on real-life data and the results can ideally be reproducible through a public git repository. Also, submitted papers are expected to provide inspiring results to policy-makers, end-users, or practitioners of Data Science and Advanced Analytics or to highlight new challenges for researchers motivated by the specific needs and characteristics of application areas.
Topics of interests include but are not limited to:
    Domain-specific data science and analytics practice, including business analytics, health/medical analytics, financial analytics, and environmental analytics
    Government analytics and enterprise analytics
    Cloud, crowd, online, mobile and distributed data analytics
    Business, economic, environmental, social impact modeling
    Real-world applications, case studies and demonstrations
    Operationalizable infrastructures, platforms, and tools
    Deployment, management and policy-making
    Ethics, social issues, privacy, trust, fairness and bias
    Reflections and lessons for better practice
Submissions for both the research and applications tracks should very clearly specify the problem being solved, what methodologies were used to solve the problem, what data was used, how the results were evaluated, and how the solution is being used (ideally in production). Applying new data science methods to public data or data downloaded from competition sites (such as Kaggle), without a real problem (and problem owner) will not be accepted in this track.
Journal Tracks
Three journal tracks are with
    Machine Learning Journal: Foundations of Data Science
    International Journal of Data Science and Analytics: Data Science for COVID-19 Modeling
    IEEE Intelligent Systems: Data Science for Intelligent Systems
Submissions to these journal tracks should be made via the journal submission systems by selecting the corresponding journal/special issue topics. Each paper can only be submitted to one journal, and duplicated submissions will be desk rejected.
Accepted journal track papers are requested to (1) submit a two-page extended abstract in the IEEE format to DSAA'2022 which will be included in the conference proceeding, (2) register and present the paper at DSAA'2022.
Paper Length, Formatting, and Reviewing
The length of each paper submitted to the Research and Application tracks should be no more than 10 pages, whereas the maximum number of pages is 2 for each abstract submitted to the Poster and Journal track. Both types of papers should be formatted following the standard 2-column U.S. letter style of IEEE Conference template. See the IEEE Proceedings Author Guidelines: http://www.ieee.org/conferences_events/conferences/publishing/templates.html, for further information and instructions.
All submissions will be double-blind reviewed by the Program Committee on the basis of technical quality, relevance to the scope of the conference, originality, significance, and clarity. The names and affiliations of authors must not appear in the submissions, and bibliographic references must be adjusted to preserve author anonymity. Submissions failing to comply with paper formatting and authors anonymity will be rejected without reviews.
Authors are also encouraged to submit supplementary materials, i.e., providing the source code and data through a GitHub-like public repository to support the reproducibility of their research results.
Electronic submission site: https://cmt3.research.microsoft.com/DSAA2022
Important Policies
Reproducibility: The advancement of science depends heavily on reproducibility. We strongly recommend that the authors release their code and data to the public. Authors can provide an optional two-page supplement at the end of their submitted paper (it needs to be in the same PDF file and start at page 11). This supplement can only be used to include (i) information necessary for reproducing the experimental results reported in the paper (e.g., various algorithmic and model parameters and configurations, hyper parameter search spaces, details related to data set filtering and train/test splits, software versions, detailed hardware configuration, etc.), and (ii) any data, pseudo-code and proofs that could not be included in the main page of the manuscript due to space limitations. Papers with solid evidences for reproducibility are preferred for the Best Paper Award of a relevant track.
Authorship: The list of authors at the time of submission is considered final and any further changes of the authorship are not allowed.
Dual submissions: DSAA is an archival publication venue as such submissions that have been previously published, accepted, or are currently under consideration at other peer-review publication venues (i.e., journals, conferences, workshops with published proceedings, etc) are not permitted.
Conflicts of interest (COI): COIs must be declared at the time of submission. COIs include employment at the same institution within the past three years, collaborations during the past three years, advisor/advisee relationships, plus family and close friends. Program chairs, poster chairs, special session chairs, and tutorial chairs are not allowed to submit proposals to their organized tracks and sessions.
Attendance: At least one of the authors of each accepted paper must register in full and attend the conference to present the paper. No-show papers will be removed from the IEEE Xplore proceedings.
Important Dates
Paper submission due: May 15, 2022
Special sessions submission due: June 1, 2022
Notification on acceptance: July 25, 2022
Special sessions notification: July 31, 2022
Camera ready submission: August 15, 2022
More info on: http://dsaa2022.dsaa.co/dsaa2022